Creamy Salmon and Dill Pasta Recipe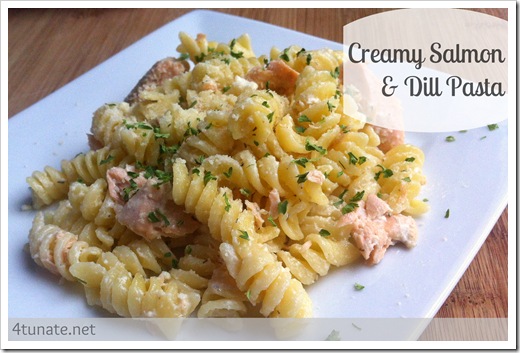 I love when a throw together meal turns into a "keeper".  And there's something about rotini pasta that makes it more kid-friendly! Here's the conversation that happened after this meal was devoured: 
Brad: You should totally make this meal again.

Me: Really? It's a keeper?

Brad: Yes. Write it on your meal plan for next week.

Me: I didn't even write the recipe down.

Brad: Write it down. Go! Now! Blog it.
And so here we are…
I usually buy frozen wild Alaska salmon by the bag. Combine it with some pasta and several ingredients you may already have on hand, and you have a meal in under 30 minutes!
[print_this]
Creamy Salmon and Dill Pasta
Ingredients:
1 1/2 lbs. of frozen salmon fillets
4 T of butter
3/4 c of mayonnaise
1/4 c of sour cream
1/4 t pepper
1/2 t seasoned salt
2 teaspoons of dill
1 lb. of rotini pasta 
parmesan cheese and parsley to garnish (optional)
Directions:
1. Preheat oven to 400 degrees.
2. Lay salmon filets on top of pads of butter.
3. Mix mayonnaise, sour cream, pepper, seasoned salt, and dill until creamy.
4. Spread mixture on top of the filets.
5. Bake at 400 degrees for 20 minutes.
6. Meanwhile, cook the rotini pasta as directed.
7. Remove from salmon from the oven. Flake the cooked salmon into small pieces and combine sauce with drained pasta.
8. Serve with shredded parmesan and parsley.
[/print_this]
What's your favorite way to eat salmon?