Best Outdoor Toys for Summer Fun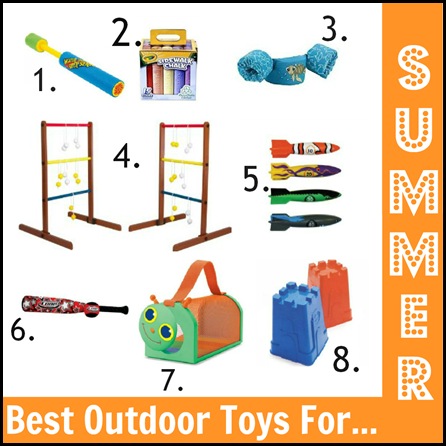 The warm days of summer are here and best to be enjoyed outdoors in the sand, sun, shade, or pool!
Here Are 8 of Our Favorite Outdoor Toys for Summertime Fun:
1. Foam Water Blaster
– So much better than water guns, and great for the pool or a hot day in the yard! (We found ours in the dollar spot at Target!)
2. Sidewalk Chalk
– Creativity belongs outdoors too!  Even the grownups love sidewalk chalk!
3. Puddle Jumper Floats
– Although technically not a toy, it's a means to pool fun and safety, so I included them.  We constantly get asked about these, and although our boys are swimming great without floats this year, we still have these on hand for the beach or lake days.
4. Ladder Ball
– Although adults may enjoy it more competitively, our boys love to play this fun yard game.  It's simple enough for them to get the hang of, and it disassembles so it's easy to store.
5. Toypedo Missiles –
It's the prized pool toy at our house.  These are great fun to dive for, or to watch move through the water.
6. Bat and Ball Set
– The backyard baseball games are in full "swing".
7. Bug Catcher Container
– Have I mentioned how critter crazy these boys are?  The bug catcher goes with us on each adventure and has been used for watching spiders, dragonflies, lightning bugs, crickets, and other crawlers. It stays OUTSIDE! =)
8. Sand Castle Beach Toys
– We're far from the ocean, but that won't keep us from playing in the sand this summer at a lake or two! I'm on a mission to find a few buckets and molds for an epic sandcastle this summer!
What are YOUR Kid's Favorite Outdoor Toys for Summer Fun?
*Links used in this post go to Amazon.com as an affiliate.