Over Blackberry Cobbler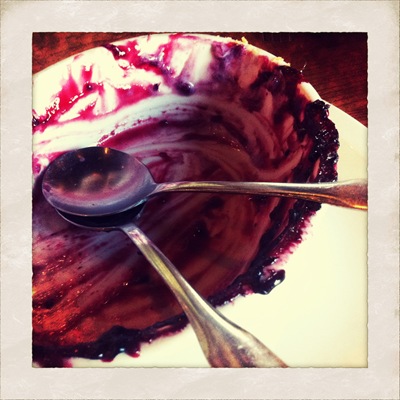 I read someone's Facebook status yesterday that said, "Don't forget to work on your marriage this summer – it's worth it." I appreciated this advice from a seasoned mother. In the excursions and activity of summer, marriage can get the cold shoulder.
Brad and I made this brilliant partnership with our neighbors down the street that we trade off a night each week.  After we put the kids down for the night, the couple of the week goes out, one parent goes to the neighbor's house, the other stays home with their own kids.  I told you it was brilliant – no feeding kids, no bedtime shenanigans, just a quiet house of sleeping children. (And saving 10's of dollars on a sitter!)
It's been SUCH a God-send to have a 2 hour date every other week.
Time that we can finish our sentences,
catch our breaths,
unwind,
talk about things other than critters,
evaluate,
flirt,
focus,
while devouring warm Blackberry Cobbler.
I can definitely work on my marriage with Blackberry Cobbler by my side.
How do YOU make time for date nights over the summer?