Happy Forja Fileye And Other Quadisms…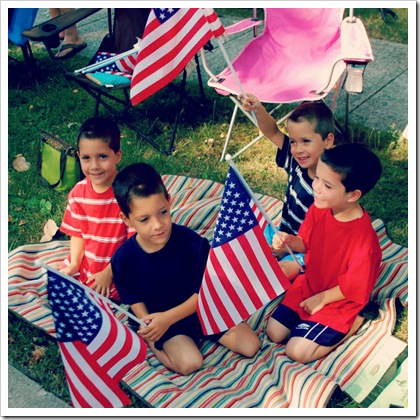 Although there are fewer "Quadisms" than there used to be, they still continue to crack us up.  Perhaps they are even more hilarious because they have the confidence of a five year old that they are absolutely right. {Parents are always wrong – go figure!} 
Yesterday, Henry was convinced that the holiday was called "Forja Fileye" instead of the Fourth of July.
They borrowed a movie from their best friend at church that they were all just sure was called, "Heiner Drainer Dragon". Apparently, it's the German version of the popular movie How to Train Your Dragon
. 😉
And Brooks wanted to ride on the "American-Go-Round" this week at the carnival.
I'm gonna miss these Quadisms some day…
Hope you had a wonderful holiday – it was sure a sweaty one, but a great one!  Ours was pretty low-key – a morning parade with friends, afternoon dip in the pool, and fireworks at the only display in the county due to the drought.  So thankful for our freedoms and those who have sacrificed so much for the love of this great nation!