The Timeless "My Daddy Is Better" Argument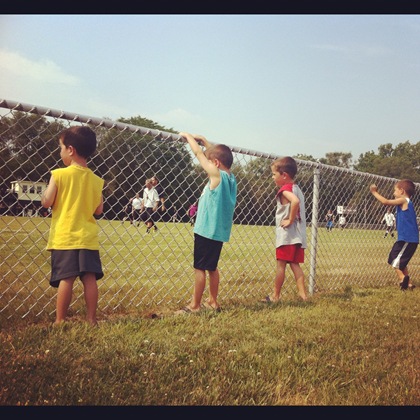 The boys stood at the fence in the near 100 degree weather and cheered their Daddy on as if their lives depended on it. "Go Daddy! Go Daddy! Go Daddy!"  was chanted with all their might along with the sing-song "Go Daddy, Go Daddy, Go Daddy, Go!"
When he stopped mid-game to acknowledge them with a wave their hearts exploded.
The next thing I know they are carrying on a conversation with another Daddy fan who was about their age. His daddy was wearing white, and kicking for the other team.
"Well our daddy is kicking better…"
"Our daddy is the best player…"
"Our daddy is running faster…"
Daddy Pride. Alive and well in 4 five year old boys, and in the hearts of millions around the world.
And then there was the end all of…
"Well, WE are cheering better than anyone else out here!"
{Oh dearz. Here we go.}