Simple Outdoor Adventures for Boys {Day 16}: Bird Watching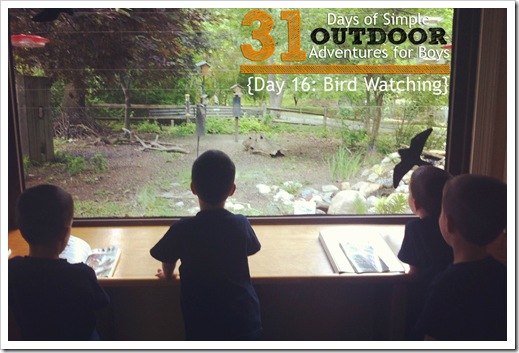 Go Bird Watching…
   Supplies:
Halfway through our 31 Days of Simple Outdoor Adventures for Boys!  There are LOTS of great ideas left this month!
I have been surprised at how fascinated my boys have been with birds.  We have a Ornithology Center at a nearby park with a viewing area, stuffed birds, and lots of picture resource books that have entertained them for hours this year.  Of course their favorite birds are birds of prey – falcons, eagles, etc.  Go figure!
I enjoy bird watching with the boys because it's a calm activity 😉 and there are so many varieties to watch/identify.  The diversity of God's creation never ceases to amaze me!  We've often spotted woodpeckers, cardinals, sparrows, chickadees, blue jays, doves, nut hatches, finches, and robins all in one day!
  Helpful Tips/Resources:
* You don't have to go far to watch for birds.  You very own backyard probably hosts dozens of species. 
*Building a Birdhouse or Making a Bird Feeder is a great family activity to attract more birds to your backyard.
What Kind of Birds Do You See in Your Backyard?