Simple Outdoor Adventures for Boys {Day 24}: Star Gazing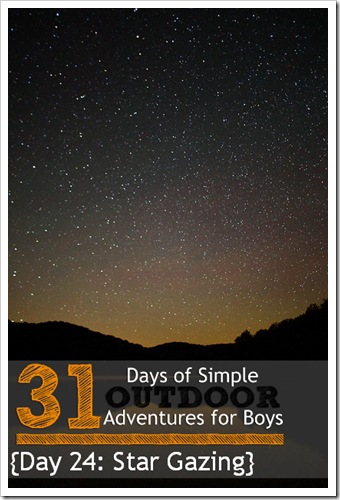 Going Star Gazing…
   Supplies:
Oh my stars! There's something truly breathtaking  about gazing up at the stars in the clear night sky.  Creation shines in all of its splendor.  It's so vast, and so stunning – not bad for millions of balls of gas.  And its viewed best on your back on a cozy blanket.
Spotting constellations can be a fun game for all ages.  The Little Dipper, the Big Dipper, Orion, and The North Star are a great place to start.  Star maps and smart phone apps are great tools for navigating the stars!
Above all, just enjoy a starry starry night together! 
  Helpful Tips/Resources:
* Check with your planetariums in your area for upcoming events and what to watch the sky for!
What's your favorite thing to gaze at in the night sky?