Simple Outdoor Adventures for Boys {Day 3}: Make a Tornado in a Jar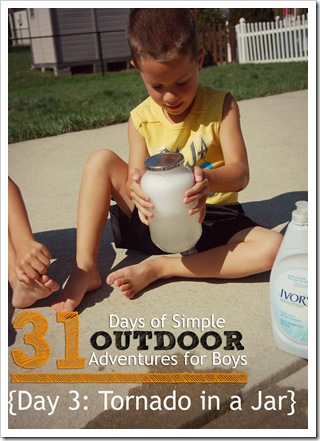 How to Make a Tornado in a Jar…
   Supplies:
Glass Jar
Water (3/4 jar full)
1 tsp of Dish Soap
1 tsp of Vinegar
Glitter (optional)
Butter Knife
Tornadoes in the sky – not so cool.  Tornados in a jar – super fun.  The boys have been fascinated in studying weather, and of course experimenting with it hands on is even more intriguing!
We found a tornado in a jar activity using these simple ingredients, that provided a great hands on simulation of the vortex motion of a tornado.  It's a great activity to take outside in case of a spill and to observe the current weather conditions.
Combine the ingredients above in a glass jar.  Shake and swirl together in a circular motion and watch the funnel form.  We discovered later that if you use a butter knife to swirl the water, the tornado is more defined and lasts longer.  You can add glitter to help visualize the debris.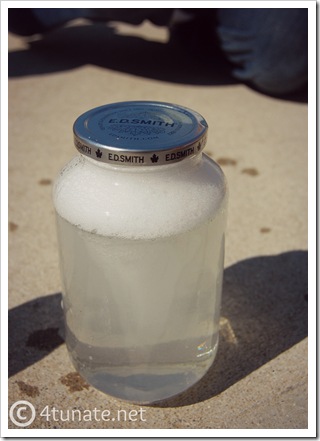 Helpful Tips/Resources:
* You might need a little force to get the circular motion. 
* More natural dish soaps seems to have better results.
Have you ever experimented with making a tornado in a jar?  How did yours turn out?