Simple Outdoor Adventures for Boys {Day 8}:Make a Lemonade Stand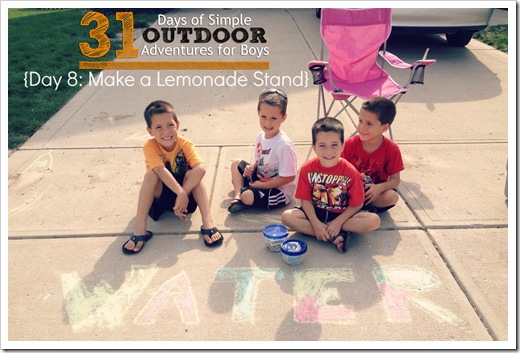 How to Make a Lemonade Stand…
   Supplies:
Lemonade/Water/Apple Cider/Baked Goods/Popsicles
Cups
Pitcher
Change
Table
Signs and/or Sidewalk Chalk
What I love about setting up a lemonade stand is it doesn't have to be lemonade!!!  You can do what's in season (hot chocolate, apple cider, popsicles, or even bottled water).  It can be as simple as you want to make it.  On this particular day, we sold $19 worth of popsicles and bottled water on our quiet road.  It was a unplanned activity that turned into a day-long fun-filled event for the family!
The boys LOVED making their own spending money, and it was a great economics lesson as well on saving, giving, cost, value, and profit.  It is also a perfect opportunity to raise money for a cause that your family is passionate about! I think we may try apple cider and pumpkin muffins for the fall!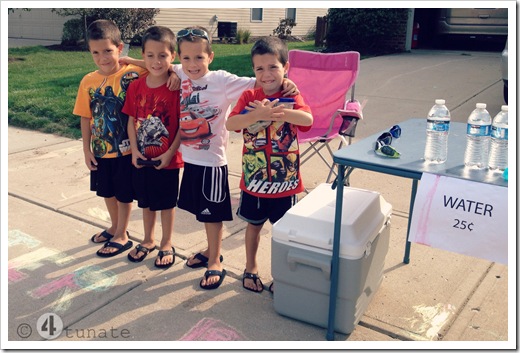 Helpful Tips/Resources:
* If you desire to have a successful lemonade stand, I recommend more preparation and location research.  😉
Have you ever hosted a lemonade stand?  What are your tips/tricks?