7 Easy Thanksgiving Crafts for Kids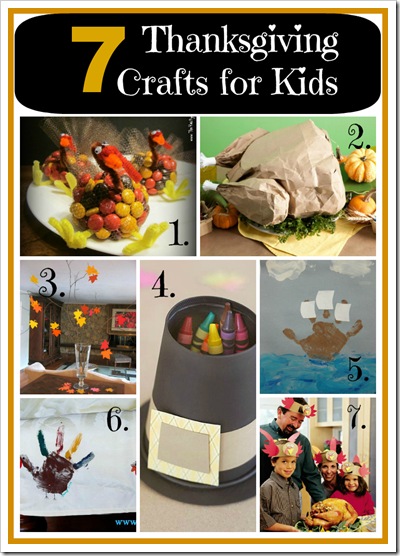 One of the BEST things about Thanksgiving is FAMILY.  We've been reading up on our Thanksgiving history this week, and next week I'm hoping to do several hands-on activities and crafts with the boys for Thanksgiving week. I thought I'd share some of my favorite Thanksgiving craft finds…
1. Turkey M&M Favors – I mean seriously, this bird is hilarious.
2. Paper Turkey Popcorn Bag – Brilliantly adorable.
3. Thanksgiving Grateful Tree – I love this idea, and how it can become a fabulous centerpiece for the Thanksgiving table.
4. Pilgrim Crayon Holder – Pair it with a paper tablecloth and you'll have happy little turkeys through dinner!
5. Mayflower Handprints – I'm a sucker for handprint crafts.
6. Turkey Handprint Tablecloth – See above…and also, how fun would this be to pull out each year?
7. Turkey Headbands – Because we shouldn't take any holiday too seriously.
How about YOU?  What are YOUR favorite Thanksgiving crafts?  Feel free to share a link in the comments!