To the Mom Who Is Anxious About Leaving Your Kids This Morning…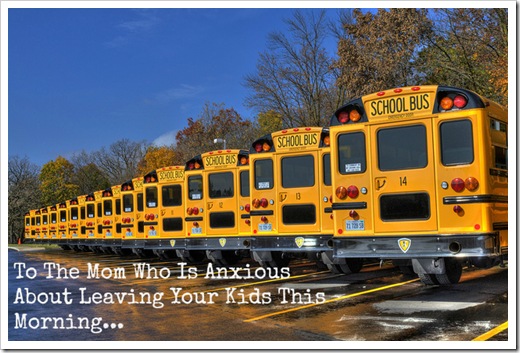 I think we've all spent the weekend holding our kids a little tighter, keeping them closer, and valuing their precious lives a little more.  The entire nation is shaken and mourning for those we've never met in a town named Newtown, Connecticut, and it hits especially hard for us moms.  I just kept thinking to myself as I read stories on Friday afternoon and watched coverage late at night, "I have four kindergarteners."
We put ourselves in those parents shoes.  Our minds wander to scenes that we cannot bare to imagine.  We struggle to sleep. We desire to protect our children all the more, and we struggle to find answers to this horrendous massacre of life.
We all must surrender to the fact that we can only protect our children to a certain extent. No matter how close we keep them, shelter them, and guard their lives, we cannot guarantee their days on this earth.
Steven Curtis Chapman wrote these lyrics after losing his five year old daughter, Maria,
"I've walked the valley of death's shadow, so deep and dark that I could barely breathe.  I've had to let go of more than I could bear, and questioned everything that I believe. But still even here in this great darkness, a comfort and hope come breaking through. As I can say in life or death God we belong to you."
I remember the night we were faced with the possibility of telling Clark goodbye.  I can only explain my calmness and surrender of his life to my relationship with Christ, as I reminded us that his life was not ours to keep. His life was held not in my arms, but in the arms of His Creator. His days are numbered, the Lord gives and He takes away.  Praise His name, that in His sovereignty He spared his life that February night and has continued to allow us five and a half years with our boys.
Joey Newton, Pastor at Newtown Bible Church writes firsthand,
"This event was tragic, and I can't imagine the pain of losing a child, of waking the next morning to an empty bed that would not be filled again. For those who suffered loss and are not Christians, I prayed that God would reveal himself to them, and point them to Christ. For those who do know the Lord, I sought to encourage them by reminding them that God is still on his throne, and that this—as hard as it is to imagine—is part of his permissive will. There is good at the end of this unspeakable evil. Maybe some will come to faith in Christ through this trial. Maybe believers will be encouraged to trust God more deeply, and live for Him more faithfully. We don't know what the good is, but we know that God's word promises that for those who are called by God, all things work together for our spiritual good and his eternal glory."
More than anything in these difficult days of wrestling with questions, mourning with those who mourn, and attempting to calm our anxious hearts I pray that we are drawn to the peace that is only found in Jesus Christ. May we wrap ourselves in our one and only hope, as His light shines even brighter in the darkness.