Easy Chocolate Chip Oat Bars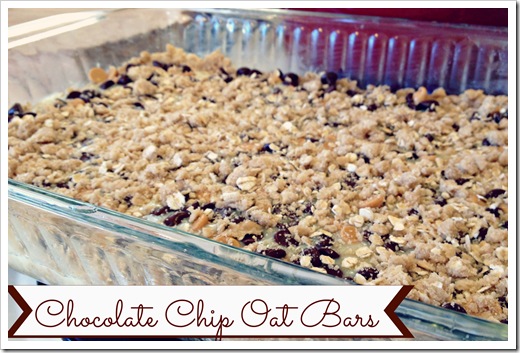 I tried a recipe on a whim the other day. I had a mad craving for chocolate chip cookies, but was feeling to lazy to make cookies. Thus, I found this recipe for Chocolate N' Oat Bars from the Eagle Brand website, tweaked it a little and it's vanished from our kitchen twice since! 
It's made with ingredients that are pantry staples – I love a sweet that doesn't require a grocery store run! 
You'll love this easy recipe for last minute guests, church carry-ins, or weekend munchies! 😉
[print_this]
Easy Chocolate Chip Oat Bars
Ingredients:
1 c of all-purpose Flour
3/4 c packed light brown sugar
1 c of quick-cooking oats
1/2 c of softened butter
1 14 oz. can of sweetened condensed milk
1 c of semi-sweet chocolate chips
Optional: chopped nuts, butterscotch chips, or peanut butter chips
Directions:
1. Combine the flour, brown sugar, oats, and butter until it makes a crumbly mixture.
2. Set aside 1 cup of the mixture for the topping.
3. Press firmly into a 9×13 glass baking dish.
4. Evenly top with the sweetened condensed milk, chocolate chips, and other optional toppings.
5. Bake for 20 minutes in a  350 degree oven.
6. Top with the reserved crumb topping and bake an additional 15 minutes until lightly brown.
7. Serve warm with a tall glass of milk.
[/print_this]
What's your frequent baked good craving?