Fresh. Calm. New.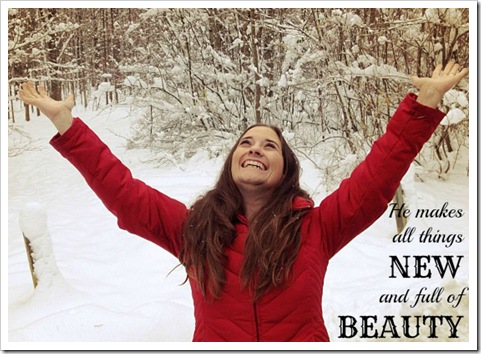 It has been a beautiful break from the speed of life, these past couple of weeks. I do love new years and fresh starts. 
Brad and I got to spend a few days away from our noisemakers… I mean darling children for a few days to celebrate our 10th anniversary.  It was beautifully refreshing.  The blizzard was a true gift, forcing Brad and I to have an entire day together snowed in with no where to go, no responsibilities, and no plans to wreck. 
It was an invaluable time for us to evaluate our marriage and family life, and renew our commitment for hopefully decades to come. 
We are desperately seeking for calmness in 2013 – Calm responses to our children, calm attitudes when stress arises, calm hearts that are in communion with our Father.
Will I fail?  Miserably and frequently. But His grace unlike snow doesn't melt away.    Like the fresh fallen snow, He makes all things new and beautiful. 
Colossians 3:15 "And let the peace of Christ rule in your hearts, to which indeed you were called in one body. And be thankful."