Introducing KidVentures
Oh Friends!  I'm so anxious to share this project with you!  We're finishing up the last minute lists, details, and plans and it should be ready to launch next week!!!!!
So allow me to give you a sneak peak into our ebook -  KidVentures: 50 Outdoor Experiences of Wonder, Discovery, & Childhood Memories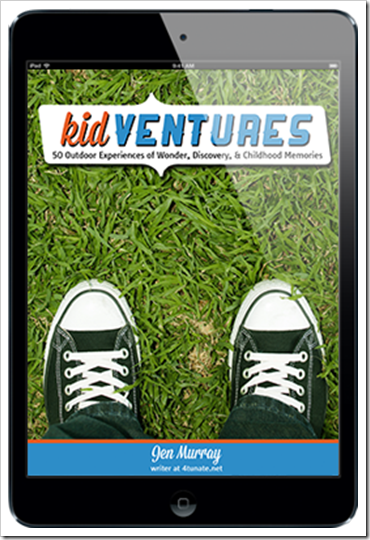 After completing our series on 31 Simple Outdoor Adventures for Boys last fall, we saw both a need for encouragement to get kids outdoors and an enthusiasm for practical ideas for outdoor creativity, activity, and learning.  We decided to expand some of the ideas we used in the previous series, add over twenty additional outdoor ideas, and include printables and resources to take each activity ever further.
It's packed with 50 activities that:
Help connect your children to nature
Encourage hands-on-learning, creativity, and discovery
Are suitable for kids ages preschool to preteen
Promote a healthy and active lifestyle
Aren't intimidating or overly complex (No Scout's badge required)
It comes down to the realization that we have a limited number of summers with our kids at home, and wanting to make the most of those fleeting moments.  For us, some of our fondest memories thus far have been made outdoors with our kids enjoying the simple joys of creation. 
"Scared moms raise scared kids. Brave moms raise brave kids." – Jen Hatmaker
Additionally, In the name of "safety" we've deprived our kids of many of the great pastimes and simple pleasures of the great outdoors. Things like climbing trees, jumping off the dock, and learning to fly a kite have been forgotten, and we're determined to bring them back with a vengeance!
Did I mention there's a MEGA GIVEAWAY at launch to raise the excitement level even more??!!!  Next week I'll have information on how you can download it, share it, and get outdoors!
Can't wait to have you along for this "venture", Friends!