Road Trip Map for Kids
This week we're leaving on a 17 hour journey south to see some dear friends in Texas.  It's sure to be a haul, but we've survived road trips to Florida twice, Alabama, Pennsylvania, and a handful of nearby states, so I'm sure we'll make the best of this one too!
We like to celebrate like crazy people each time we come to a new state.  It would be fun to stop and take pictures at each state sign, but we are too "pedal to the medal" to stop like good tourists.  Instead, last time when we traveled to Gulf Shores, AL I made a road trip map. It was a great visual  geography lesson and a fun interactive way to track our progress!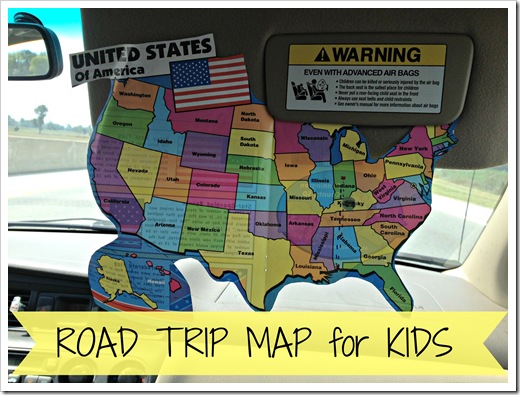 Here's How to Make a Road Trip Map for Kids:
1. Print off a map of the United States. (You can find great printable maps of the United States at Education Place.) 
2. Laminate it or put it in a sleeve protector.
3. Draw the route from your starting to ending point with a dry or wet erase marker.
4.  Find a car/truck/van sticker and place it on your starting dot.  (Bring some extra stickers along as back-up drivers if your sticker gets lost or looses its stickiness. )
5. Move your vehicle from state to state until you reach each destination.  (The sleeve protector or laminated surface allows your sticker to come off easily from state to state.)
6. Erase the lines and save for your next multi-state trip!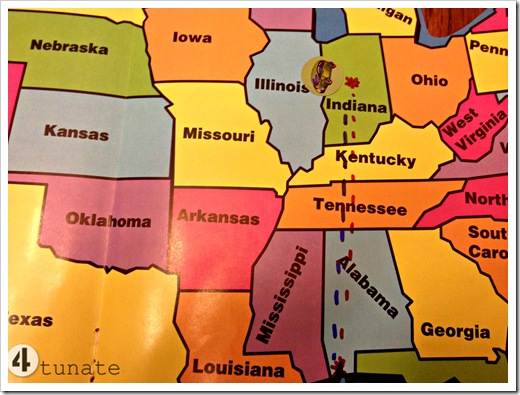 How do YOU make the most of a long road trip?  Do you stop a lot along the way?  Have you found any great apps or websites for places to stop?