Texas Souvenirs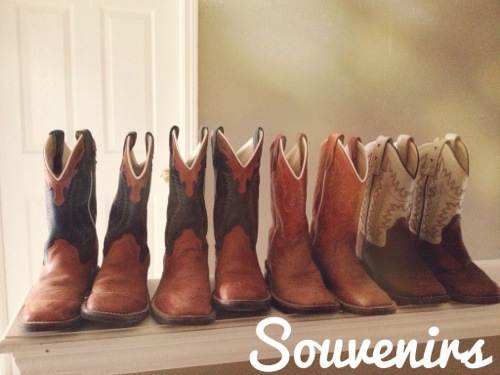 We were supposed to leave Texas with four pairs of cowboy boots as our souvenirs. They have that wonderful fresh leather smell, and I can't even begin to tell you how ridiculously handsome they look on those eight little feet. They were a surprise from the Dupre's so that their feet would be protected in the tall grass from Texas critters, but I have to admit I favor the look over the practicality.
So we packed up the van in jigsaw puzzle fashion and started our journey home, unknown to us that we would be taking another Texas souvenir home with us to Indiana. It hit in Arkansas and followed us all the way to Indiana.
THE DREADED STOMACH BUG
Parenthood is raw, y'all. There is no greater love than driving down the highway for hundreds of miles holding your sons digested breakfast in a plastic container trying not to spill in in the van for the fear of driving a barf-smelling van for the rest of your kids' lives. (I mean, what kid wants to drive that around on his 16th birthday.)
So you might think love is donating a kidney, but I can attest that THIS is the real deal.
So give me a minute while I shower myself for the 14th time, disinfect the van, and tackle the laundry. I will return with only lovely memories to share, as the boys are on the rebound, and we can chalk this one up to another "we survived ____ " milestone.
So what's the worst souvenir you've ever brought home?