This Week's KidVentures {May 17}
The weather has been PERFECT for some easy KidVentures this week.  We even got to break out the sprinkler for the first time! Which is always a hit for about seven minutes….anyone else experience this?  I'm not sure if it's because the water is too cold, or the sprinkler isn't that exciting, or what the non-draw is!  {Vent it out with me in the comment section!}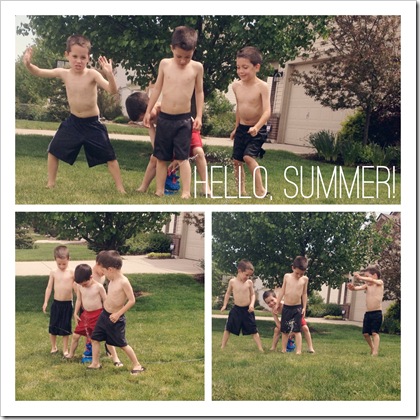 There were melted marshmallow and chocolate mouths that come from the pure pleasure of ingesting s'mores…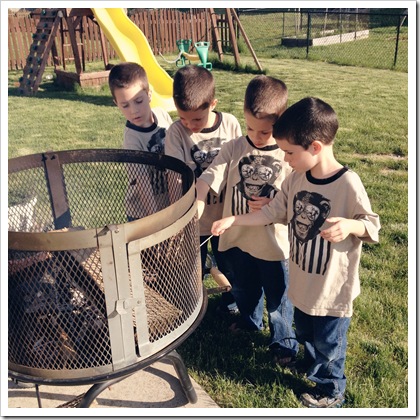 There was a team effort bug hunt for butterflies, dragonflies, and spiders (eeeek!),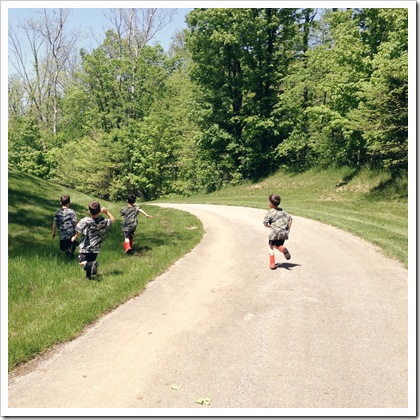 And we even a "magic" tree house discovered in the woods.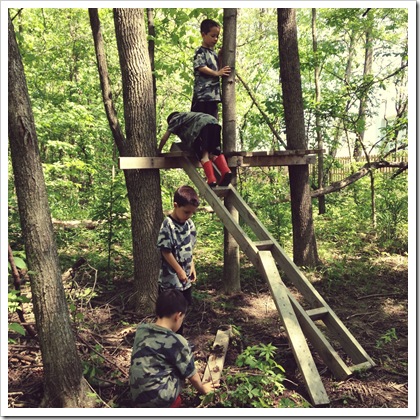 Hello, Simple Outdoor Pleasures of Summer!  Welcome back!
If you need some simple ideas for this upcoming season – KidVentures is chock-full of them!  From building a homemade sprinkler from PVC pipe, to how to skip rocks, to making chalk sidewalk people, to geocaching… great ideas that you can pick up and go!
As a fellow mom of four boys, I'm always looking for ways to keep my wild bunch active. When my boys get too wiggly and wild in the house, we say, "Are you acting like an animal? Where do animals live?". They always run to the closet and grab their shoes and answer, "Outside!". Kidventures is so comprehensive and detailed, Jen makes it too easy not to head out and play. I'm looking forward to putting KidVentures to use this summer, making sweet memories with my boys while keeping my house and sanity intact.

– Hayley Morgan,TheTinyTwig.com, Founder of The Influence Network
Oh and good news!  KidVentures is now available on Nook!  And I've had a handful of people who are new to ebooks asking if they could get a copy without a reader or tablet.  ABSOLUTELY!  You can download the PDF and read it on your computer, copy it off, or read it from an app on your phone! 
I was going to spend a few hours planning summer fun for my 3 kids, now I don't have to. Jen's book is PACKED with fun, simple experiences that are very well laid out and clearly explained. Honestly? I'm just as excited as my kids are about doing these activities!

-Kat Lee, InspiredToAction.com
So what KidVentures are YOU conquering first?