10 Free Things for Kids at the Indiana State Fair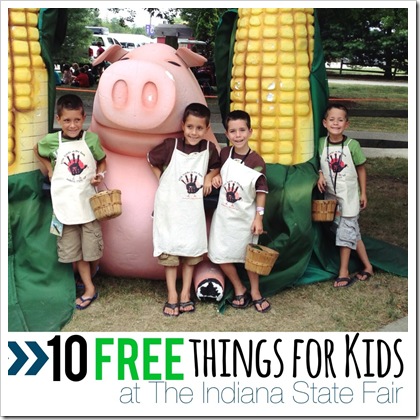 The Indiana State Fair is always a bright highlight in our summer.  We wouldn't miss it, and we go back more than once to fit in all of our fair favorites.  We've found that visiting the fair doesn't have to break the bank with kids.  In fact, there are plenty of FREE ways to enjoy the state fair that we're happy to share!
10 Free Things for Kids at the Indiana State Fair
1. Free Fishing
Behind the DNR building you can find the FishIN' Pond which allows kids ages 5-17 the opportunity to fish for free.  Included is an educational 15 minute presentation about fishing safety and education, as well as a craft table at end. The pond is open from 4:00-7:00 pm daily.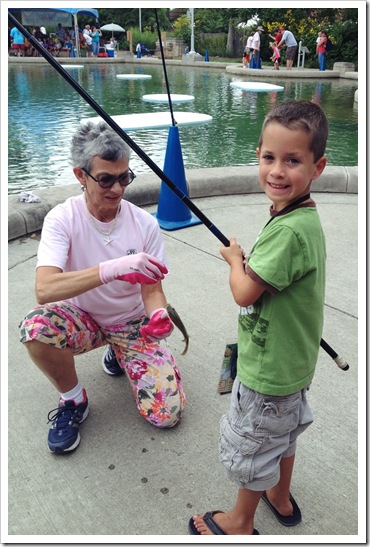 2. Free Hats
Check out the beautiful new Glass Barn built by The Indiana Soybean Alliance. The glass-paneled barn is filled with interactive activities that explain the Indiana farming experience.  Answer some questions along the way, and receive a free Soybean hat.
3. Free Putt-Putt
The FFA Pavilion offers free putt-putt golfing in an indoor and outdoor course.  This is always a MUST do for our boys!
4. Free Milk
Did you know that The Dairy Barn will refill sippy cups or bottles for babies for free? Also, if you complete the scavenger hunt at the My Plate booth by Purdue Extension in the DuPont Food Pavilion you get a free Purdue cup and coupon for a free milk!  We are craaaaazy about the Dairy Barn's milk and milkshakes!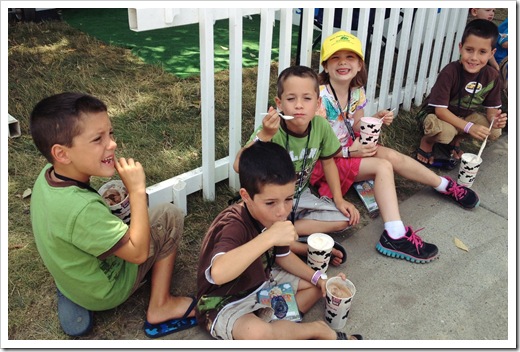 5. Free Popcorn
The Farm Bureau Building provides a free popcorn, which is a great snack to munch on the go at the fair.
6. Free Shows
The line-up of free shows is fantastic this year!  Each day offers so many selections from tractor pulls, to high diving pirates,  to ice shows, to animal shows, and free concerts at the Marsh Free Stage.  Check the Indiana State Fair Program for daily offering and times.
7. Free Little Hands On The Farm
At Little Hands on the Farm, kids pretend to be farmers for the day by collecting seeds, riding miniature tractors, pretending to milk a cow, pick vegetables, and more!  At the end you can cash in your harvest for play money, and then buy a treat in the store.  We LOVE this interactive experience and I think I might shed tears on the day they are too old for this yearly tradition.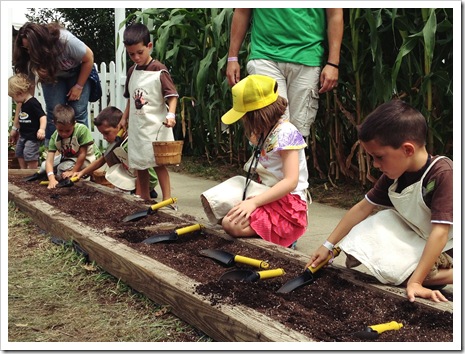 8. Free Playground
The FFA Pavilion also offers an awesome playground with a slide, giant chalkboards, construction and farm play vehicles, tubes, and plenty of things to climb. A great indoor option in case of rain or to get a break from the sun.
9. Free Shooting Range
The DNR Building has instructor guided air rifle range for kids to try shooting a target with side by side supervision, an instant hit for my boys.
10 Free Tickets
Of course everyone wants FREE admission.  The good news is kids 5 and under are FREE daily.  You can also more details on  discount ticket days such as $2 Tuesdays and other discounted ticket offers over at IndyWithKids.com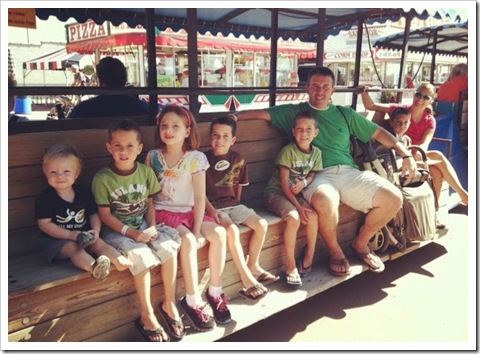 What's YOUR favorite FREE thing to do at the Indiana State Fair?
*Special thanks to the Indiana Family of Farmers who provided our family with extra tickets in exchange for this post. Of course all the content and opinions are my own. Also thanks to Katie for allowing us to adopt Maddie for the day. 😉