Spring Will Be All The More Glorious…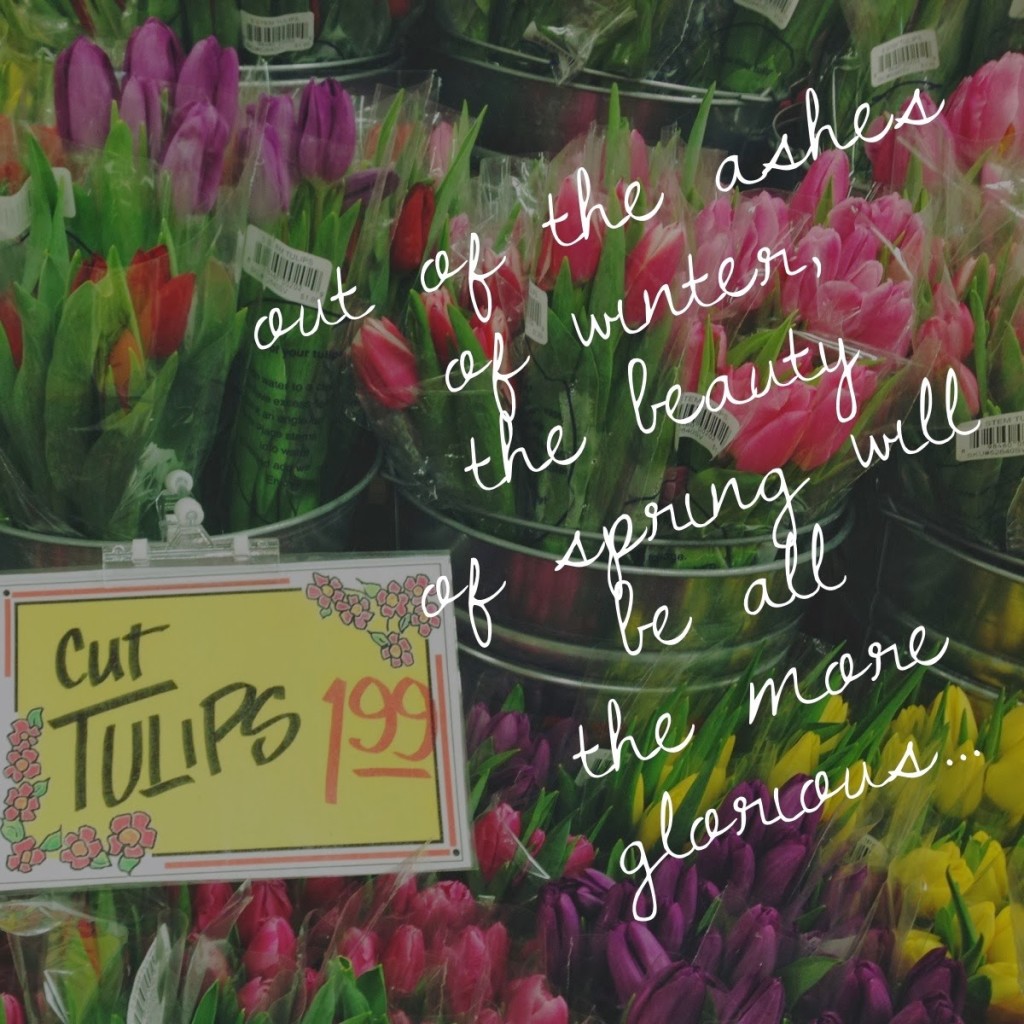 2014 and I haven't gotten along so well thus far. Between the weather trapping us in, the dark long days of this season, and my physical setbacks,I've had my fair share of thoughts of escaping this winter that continues to drag on. Oh how I've missed the warm sunshine, the blooming flowers, the luxury of having the windows open, being able to run outdoors (or run at all), and the entertainment we all enjoy when we're not cooped up. I've had this longing to sit and watch the waves of the ocean, and be calmed by the roar of its constancy, and questioned why we live in this land-locked, record breaking snow-bound Hoosier state.
Running away seems like such a better alternative over persevering when we are in the midst of a trial, doesn't it?
Perhaps I'm just restless and wrestling with all of this, but I find myself craving spring in a way I've never have before…
its promise of new beginnings
its thawing of the frozen and hard
its color that contrasts the dull
its warmth and hope
its freshness of starting over again
its beauty after death
This heavy season cannot last forever, and we have hope as we endure. Spring will be all the more glorious after the darkness of this winter. And friends, I cannot wait to put on my flip flops and tilt my head back to bask in the warmth of the first truly warm day of spring. For now, I will hold on to the assurance that spring will indeed come, and find joy through this promise.
Until it shines its glorious head, I'll buy up the $1.99 tulips at Trader Joe's and flip through pictures of all of us at the ocean.
Spring is coming, Spring is coming
Out of these ashes, beauty will rise
And all we've been hoping and longing for soon will appear
Sorrow will be turned to joy
Spring is coming, Spring is coming
All we hoped for soon will appear
It won't be long now, it's just about here
Out of the dark clouds, beauty will shine
All above in heaven, rejoice
Spring is coming soon
Spring is coming soon