Toothless Twinsies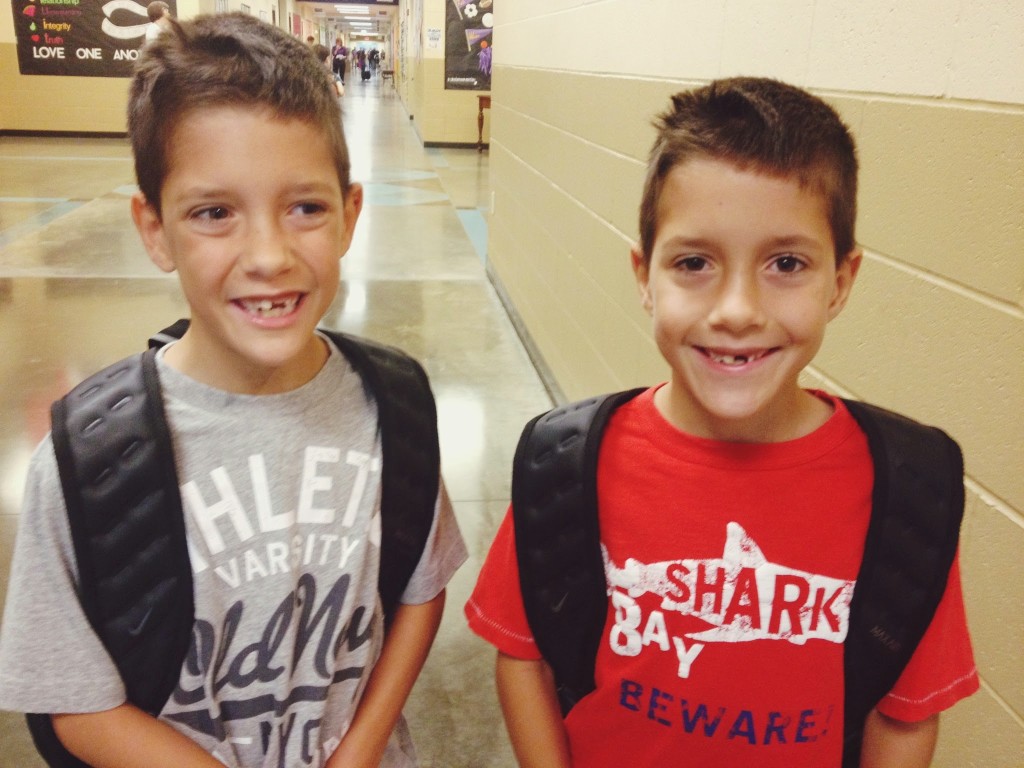 So no more, "Clark is the one with the front top tooth out" to help others tell them apart. (Although I think they look pretty distinctive in this picture, I have messed up a couple of times on first glance in person.)
Doesn't it just age them so quickly when they starting loosing teeth? My babies have vanished.
Henry has still only lost 1 tooth, while Clark, Isaac, and Brooks are tied with 5.  And yes, the Tooth Fairy is officially bankrupt.
——————————
What else is happening around here besides loose teeth and dollars under pillows when we remember to tell Siri to remind us? Let's see…
>>> I'm attending a ladies Bible study on Wednesday mornings since I'm now a lady of leisure have a little more flexibility in my schedule. We're studying Weirsbe's Be Hopeful, a commentary on I Peter.
>>> We gave back our camper that's been on loan from friends for several years. Sad, but HELLO GARAGE SPACE!
>>> My basic no-frills Kindle went for a swim with me in the bathtub, but came back to life after a few nights soaking in rice.  However, it's having issues, so I may just have to beg for a new one for my birthday.  Yes, I have learned my lesson, but I'm not sure I can commit to not ever doing it again.
>>> Brad's family is celebrating his parents' 40th Anniversary at Gulf Shores this week.  We couldn't swing a trip right now, but we are sure missing the ocean and opportunity to spend time with them! So thankful for their milestone and their marriage!
>>> I steped inside of an Ulta store for the first time in my life last week. I haven't bought anything but drug store make-up since the early 2000's, but I'm giving this a go along with a few other things I found and I've even watched some of Kate from the Small Things tutorials. Who is this crazy woman typing such things?
>>> We made a trip to our favorite apple orchard on Sunday.  I love going there every year and watching the boys race up and down the rows of trees, and snack on goodies from the country store.  We came home with a bag of Honey Crisps and a jar of Apple butter, but we'll be back for more apples and cider later this month.
>>> Brad's grandparents have both moved to the nursing home, which has been an emotional strain and transition for everyone involved. Aging is just cruel sometimes. We would appreciate your prayers for his family.
>>> We are headed to Lexington this weekend for an Essential Oils 101 Class with some of my favorite blogging and real life friends Traci (Beneath My Heart), Cyndi (Walking in Grace and Beauty), and Myra (My Blessed Life). If you are in the area, I would LOVE LOVE LOVE to see you there!
>>> Ever since it cooled off a little, the 7 Soups for Fall post from last year has been blowing up on Pinterest, so thanks if you happened to share/pin it!
>>> I cleaned out my closet and gave it a really good purge.  Basically my criteria was if this doesn't make you feel good in it or fit right it's GONE.  Felt so good. I can't wait to find time to tackle the toys, the linen closets, the boy's room, etc.
>>> We recently discovered that the sushi from our local Kroger is surprisingly really good and cheap, which may become a problem.
>>> I can't get enough of Rend Collective's My Lighthouse.
>>> I'm enjoying the cooler temps and fall air, but can I be honest and tell you that the thought of winter panics me?  It was such a horrible season for us and every time I see anything Christmas related I feel nauseous, anxious, and filled with dread if I allow myself to go that far. I'm trying to focus on the thankfulness I have in the now.
Alright, enough of my random happenings and current phases.  What are YOU into these days? Talk to me, Friends. It's much too quiet in this house.