30 Day Giving Challenge – New Leaf Publishing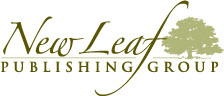 Good gracious! What a whirlwind this has all been! Thanks for hanging with me through all these giveaways.  I promise December things will return to "normal" (whatever that is) here at 4tunate. I hope the 30-Day Giving Challenge has challenged and encouraged your hearts this month. Just a couple more giveaways to go!
Today's sponsor is New Leaf Publishing who have glorified God through the power of the printed word for over thirty-five years.  New Leaf Publishing is over Master Books (apologetics, creation science), New Leaf Press (Christian living, inspiration) and Attic Books (Christian reference books from the 18th century). I love books and filling my home with pages of truth, especially books that I can share with our four boys. I plan on passing this set on to our church children's ministry.
New Leaf Publishing sent me a fabulous Children's Book Gift Set that includes:
And guess what I have?  I have a set to pass along to YOU!
To Enter:
Leave a comment with your favorite children's book.
(If you are reading via email or in a reader, please click through to the post to enter.)
Extra Entries (Leave a separate comment for each.):
The other bloggers leading the 30-Day Giving Challenge are also giving away gift sets!  Stop by each of their sites for more chances to win!