Easy Crock Pot Meatloaf Recipe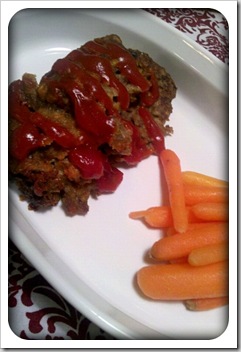 Did you know that you can make a mean meatloaf in the crock pot?  I had no idea, until @kallagreen gave me the idea over Twitter. She started throwing out ingredients and I started guessing amounts and throwing in a little of what I had on hand.  The top part was done perfectly (just the way I like it), and the flavor was scrumptious!  And it couldn't have been easier! 
Here's the ingredients I put together for Crock Pot Meatloaf:
(I'm guessing you could tweak this with what you had on hand and it would still turn out great!)
2 Eggs Beaten
3/4 c Milk
3/4 c Uncooked Oats
1 T Dehydrated Onions
1/2 t Ground Sage
1/2 c Cracker Crumbs
1/3 c Salsa
1 lb Ground Beef
1/2 c Ketchup (topping)
Directions:
1. Combine first 8 ingredients in a bowl until well mixed. 
2. Form a loaf and place in a crock pot (you might try spraying it with cooking spray or using a crock pot liner).
3. Cook on low for 5-6 hours.
4. Add ketchup on top for remaining 30 minutes.
5. Dinner is served!
What's in YOUR meatloaf?