Fun for a Buck: Watercolor Alphabet Letters
We are staying home for preschool this year…We're taking a pretty relaxed/informal approach to learning kindergarten skills. I figure they have their entire lives to do worksheets and homework, right? Instead we've been taking our own "field trips", and doing other hands on learning activities.  Every now and then we throw in a worksheet to help them practice writing their letters, or to help reinforce a reading readiness skill.
We try to keep it FUN and frugal with activities like this one: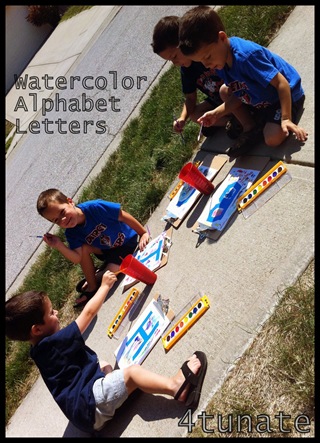 I came across a similar Watercolor Initials Activity on… you guessed it… Pinterest a while back, and I decided to simplify it even further for my crafty-challenged brain and my young learners.
For This Watercolor Alphabet Letter Activity You'll Need:
Construction Paper or Card Stock (You can use regular paper but it may wrinkle)
Watercolor Paints (Check clearance racks from Back to School leftovers – we scored these for .30 a piece!)
Painter's Tape

Paint Brushes

Cup of Water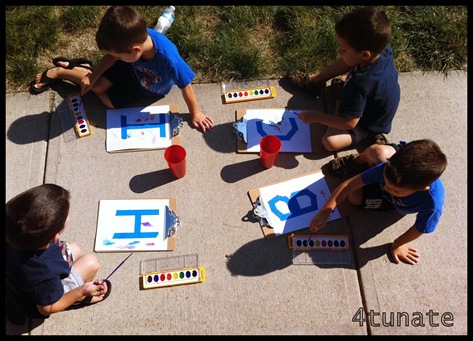 Instructions for Watercolor Alphabet Letters:
1. Use Painter's Tape to make your child's initial or the letter of the week on the construction paper or card stock.
2. Have you child paint around their initial with the watercolors. Be sure to cover the outside of the painter's tape well with paint to outline the letter.While they are painting, you can name things that begin with their letter sound.
3. Allow the paint to dry completely.
4. Carefully remove the Painter's Tape to reveal the letter underneath.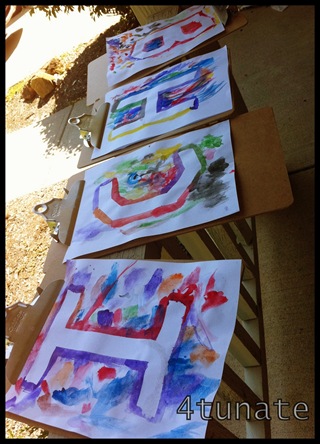 Fun + Learning + Frugal = Winning!