Library Book Haul: Favorite Check-Outs from September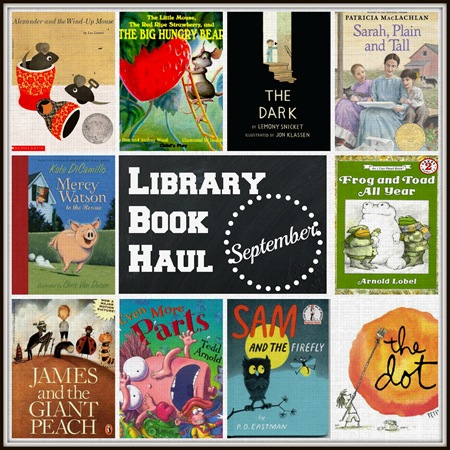 As promised from August, I'm continuing our series on our favorite library check-outs from each month.  September's list was hard to narrow down to a handful, but here's 10 of our favorites:
1. Alexander and the Wind-Up Mouse by Leo Lionni This is a classic story of friendship and being content with who you are, a crowd favorite!We need to own this one.
2. The Little Mouse, The Red Ripe Strawberry, and The Big Hungry Bear by Don Wood This is a cute, clever read about a mouse that does everything to keep his strawberry safe.
3. The Dark by Lemony Snicket We picked this one up off the "new books" shelf, and it was a fun read about a boy who conquers his fear of the dark basement, in Lemony Snicket's style.
4. Sarah, Plain and Tall by Patricia MacLachlan This was an easy, enjoyable chapter book to finish, and the boys could relate to Caleb in this story.  It's a great historical fiction read with life lessons and values.
5. Mercy Watson to the Rescue by Kate DiCamillo Our favorite check-out of the month!  Such an enjoyable and funny read about a pig and his middle of the night adventure.
6. Frog and Toad All Year by Arnold Lobel We've loved the Frog and Toad books, and this one was just as great as the others! 
7. James and the Giant Peach by Roald Dahl We also finished this chapter book this month, which the boys loved every chapter!  So much imagery, adventure, and a fun to read story.
8. Even More Parts by Tedd Arnold What boy wouldn't love this book?!!!  I have to admit, I love it too.  I love the idioms and play on words, and humor.
9. Sam and the Firefly by P.D. Eastman This was an unexpected favorite.  Again, this one was fun to read together aloud. A great read on friendship, consequences, and loyalty.
10. The Dot by Peter H. Reynolds My friend Lindsey, highly recommended this book, and I'm so glad we snatched it up.  A great read on creativity, and making your mark. 
So what were your favorite kid book reads this month? Please share and we'll add them to our list to check out this month!