How to Turn Spaghetti Leftovers into Spaghetti Pie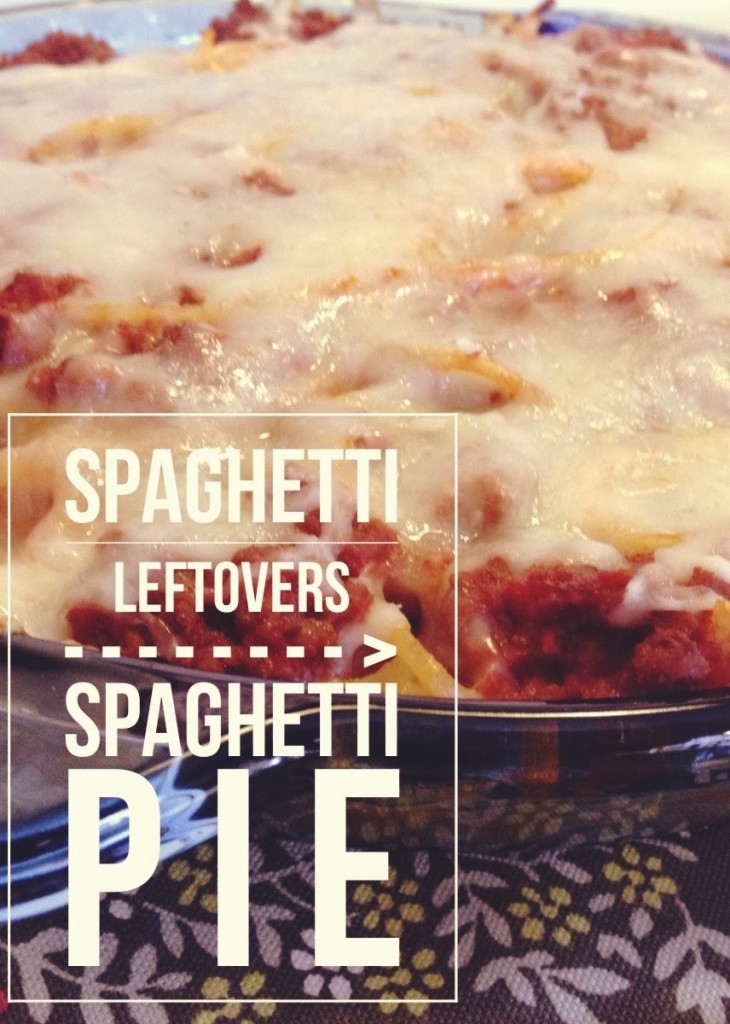 There's not very many comfort foods I love more than a warm plate of spaghetti.  My mom's spaghetti sauce can take your mom's any day of the week. It's one of my favorite dishes on earth. And it's one of those recipes she's never written down, but made for decades. We ate spaghetti almost every week growing up, and now it's one of my kids' favorites too!
But sometimes the leftovers just don't do it justice. I'm ready for a new twist – something that keeps the flavor, but makes it feel like a new meal. That's why I love taking the leftovers and making it into Spaghetti Pie the next day with easy ingredients that I already have on hand. (You can also make this from the beginning by making spaghetti according to your regular recipe, and then following the following instructions.)
[print_this]
Spaghetti Pie
Ingredients:
Your Favorite Prepared Spaghetti Recipe

2 large eggs, beaten
1/3 cup Parmesan cheese, grated
2 Tablespoons of butter, melted
1 cup of mozzarella, shredded
Instructions:
1. Preheat the oven to 350 degrees.
2. Mix cooked noodles with the eggs, Parmesan cheese, and melted butter.
3. Place cooked spaghetti mixture into a greased 10-inch pie plate.
4. Top with sauce. (or you can have it already mixed into the spaghetti mixture)
5.  Bake uncovered for 30 minutes.
6. Top with shredded mozzarella and bake for an additional 5-10 minutes.
[/print_this]
What's YOUR favorite way to re-serve leftovers?