Library Book Haul: Favorite Check-Outs from October
I'm a little late in sharing our Library Book Haul, our favorite library check-outs of October with all the Halloween festivities.  However, it's not a reflection of our enthusiasm for this month's reads.
Out of Our 43 Books That We Read from the Library This Past Month, Here Are Our Top 10 Favorites: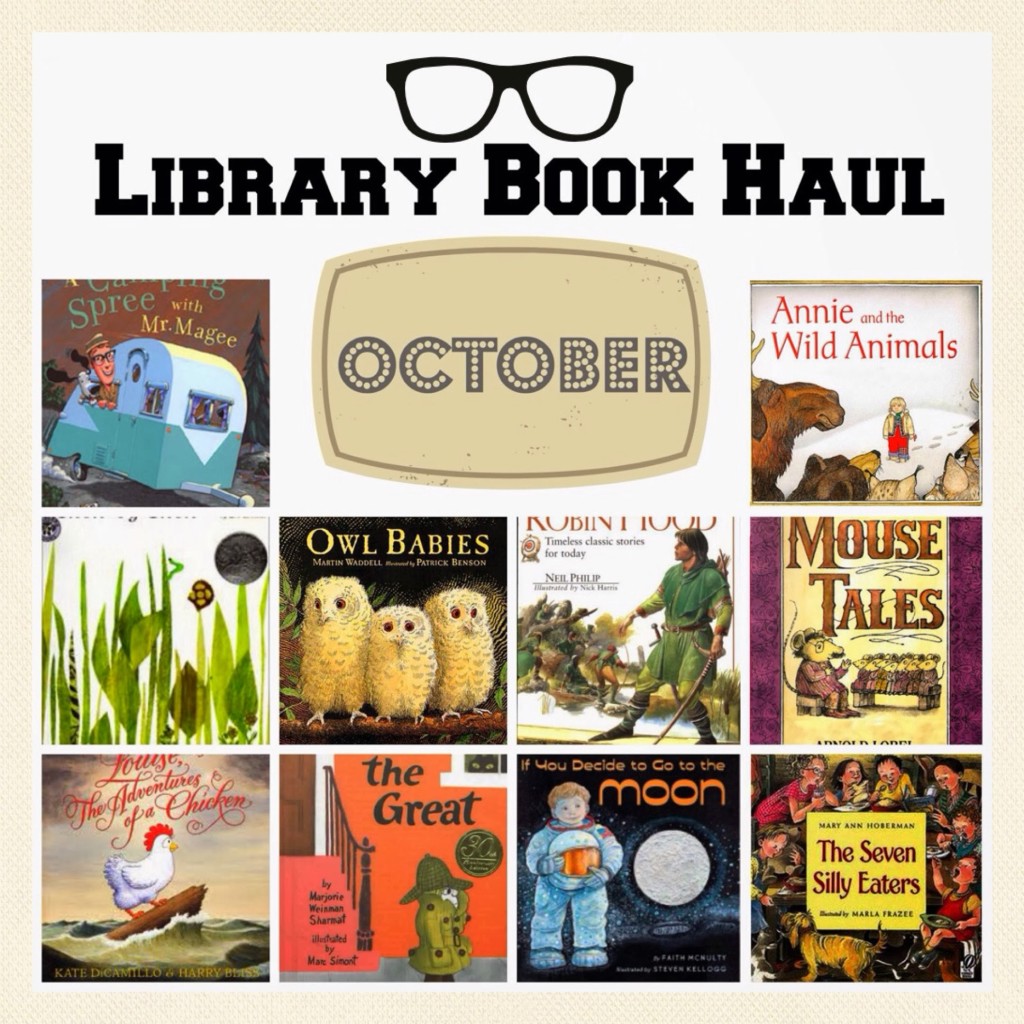 1. A Camping Spree with Mr. Magee by Chris Van Dusen We read this one twice in a row, a sign of a instant favorite. It's one we definitely need to add to our personal library, about a family's camping adventure. We loved the fun illustrations as well!
2. Annie and the Wild Animals by Jan Brett I love how Jan Brett uses foreshadowing in her books to help kids predict what comes next. This was definitely one of our favorite's by Brett, a close second to The Mitten.
3. Inch by Inch by Eric Carle This Caldecott Winner is another great classic from Eric Carle. It's also a great tie in to measurements and comparing lengths for math enrichment.
4. Owl Babies by Martin Waddell The boys have been fascinated with owls, and we've been reading lots of non-fiction and fiction books on these birds. Even though this was a simple plot, the boys really enjoyed the family relationship between the owletts and the return of their mother.
5. Robin Hood by Neil Philip Hands-down the favorite read of the month! The boys were so into this classic tale, and couldn't wait to read each chapter.  The illustrations and historical explanations in this version are fantastic.  The boys learned so much and so did I!
6. Mouse Tales by Arnold Lobel This book has a great collection of bedtime stories that the father mouse tells to his son. All around delightful stories! Another one I would like to own to read time and time again (and simple enough for them to read to me soon)!
7. Louise, The Adventures of a Chicken by Kate DiCamillo We can't get enough of books by Kate DiCamillo books. This one was a humorous adventure of a chicken, which reinforced being content in your own circumstances.
8. Nate the Great by Marjorie Weinman Sharat This book has been on our list for quite some time, and I'm glad we checked it off this month. The boys enjoyed the mystery element and of course all the pancake references.  We can't wait to check out more from this series!
9. If You Decide to Go to the Moon by Faith McNulty We've been studying astronomy for science this year, and the boys are hooked. This book explains the perspective and aspects of the moon better than any other book we have read. It's visually amazing as well!
10. The Seven Silly Eaters by Mary Ann Hoberman You recommend this, and now so are we! We read this book at the beginning of the month, and the boys are still talking about it. They enjoyed reading about these seven siblings and their picky eating habits, and seeing how something good came from their mess.
So that concludes our Top 10 Library Check-Outs from October, but I can't wait to hear what YOU recommend for us to check-out next!
Want more great Library Haul suggestions? Check out these:
Some of the links in the post above are "affiliate links." This means if you click on the link and purchase the item, I will receive a tiny affiliate commission – so THANK YOU. Know that I only recommend products or services I use personally and believe will add value to your lives, because I genuinely care about you!