Library Book Haul: Favorite Check-Outs from November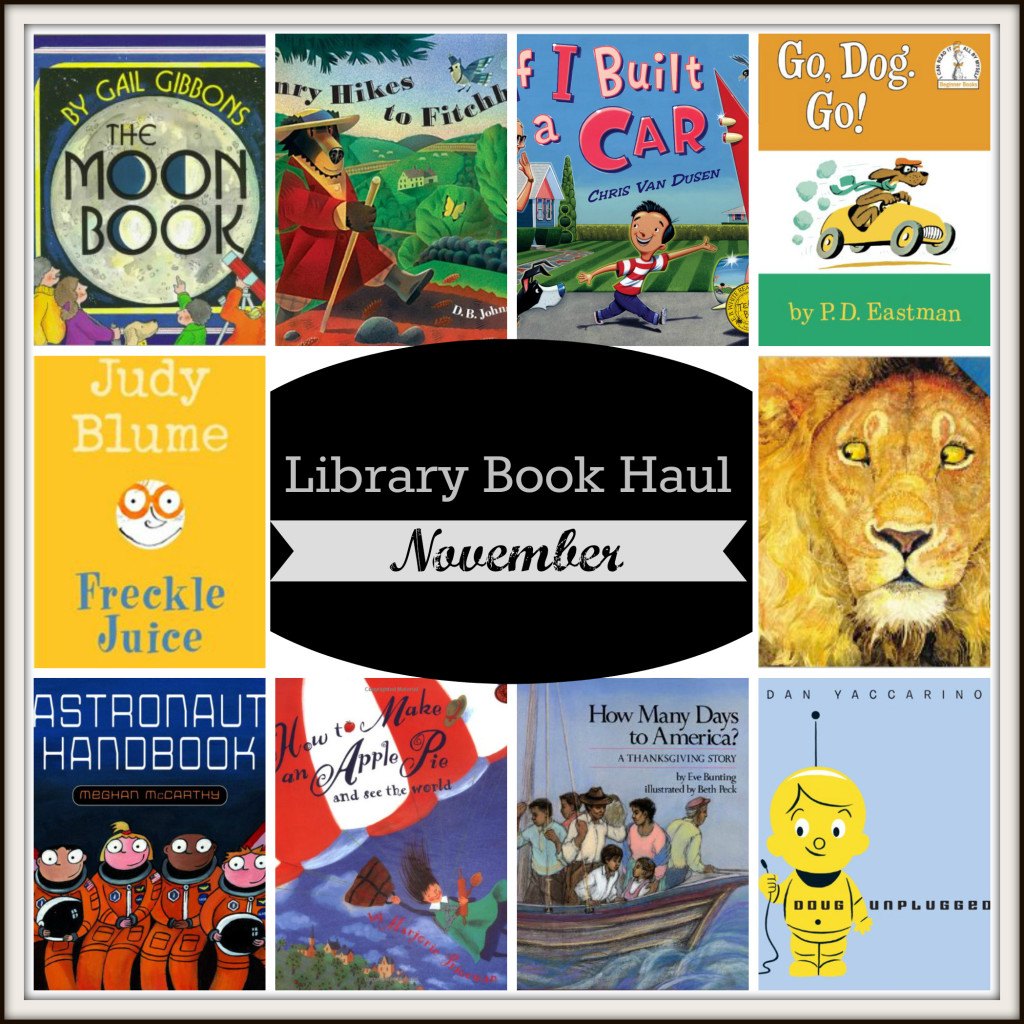 Well, it's officially December, which means it's time to review our favorite library kids' book check-outs from last month!  We love this monthly feature and hope you enjoy it and get some great book selection suggestions as well.  I really like the opportunity to exchange must-reads with one another – so if you have suggestions for our December book list, please let us know in the comments! 
Here Are 10 of Our Favorite Check-Outs from Our November Library Haul:
1. The Moon Book by Gail Gibbons – The artwork, details, and commentary on our moon were delightful in this book.  Enjoyable for all of us!
2. Henry Hikes to Fitchburg by D.B. Johnson – This book about two friends who have different approaches to life and methods to traveling through life.
3. If I Built a Car by Chris Van Dusen – We haven't found a Chris Van Dusen book that we don't want to own! Love the creativity and imagination in this fun read!
4. Go, Dog. Go! by P.D. Eastman – Suddenly some of these classics are getting even better now that the boys can help read them! This is one of our absolute favorites.
5. Freckle Juice by Judy Blume – This was our favorite chapter book read this month. What a great read aloud to enjoy together!
6. The Lion and the Mouse by Jerry Pinkney – This is a great rendition of a classic Aesop's Fable. The illustrations are gorgeous.
7. Astronaut Handbook by Meghan McCarthy – Can you tell our boys are completely memorized by all things space? This was a great non-fiction read about becoming an astronaut, with lots of humor added into the informative read.
8. How to Make An Apple Pie and See the World by Marjorie Priceman – This is a great read about a girl's journey around the world to gather ingredients for her apple pie. Great ways to reinforce geography and culture from around the world through this read.
9. How Many Days to America by Eve Bunting –  A beautiful read on a family who journeys by boat to America from their native island, and the celebration of freedom.
10. Doug Unplugged by Dan Vaccarino – We picked up this cute book from the new table at the library, and the boys really enjoyed this story about a robot who unplugs one day as an adventure.
So that concludes our Top 10 Library Check-Outs from November, but I can't wait to hear what YOU recommend for us to check-out next!
Want more great Library Haul suggestions? Check out these:
Some of the links in the post above are "affiliate links." This means if you click on the link and purchase the item, I will receive a tiny affiliate commission – so THANK YOU. Know that I only recommend products or services I use personally and believe will add value to your lives, because I genuinely care about you!