DIY Natural Stain Remover Spray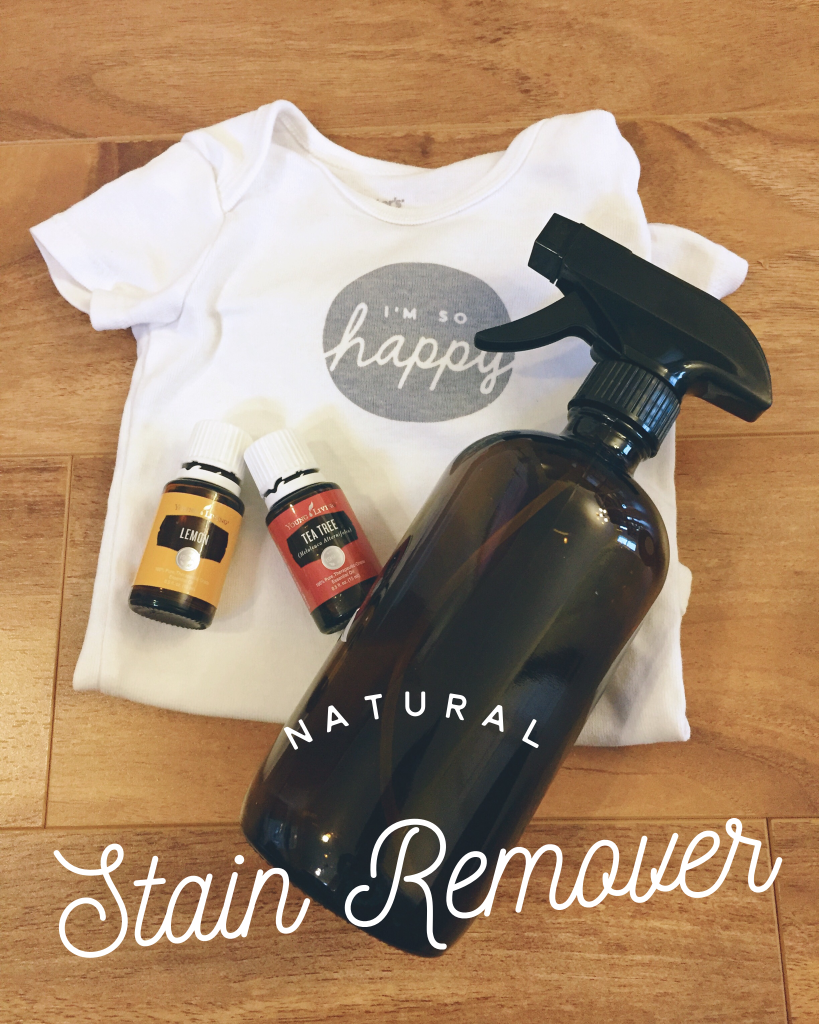 So in our quest to throw out toxins in our home, and replace them with natural and safe alternatives, one thing I've been holding out on is stain remover. "Blowouts" are still a weekly occurrence in Hudson's life, and thus the need to treat his laundry with something that gets out bright yellow stains – possibly the only down side to breastfeeding.
I didn't want to make a natural switch with something that didn't get out stains, because I value his clothes. And who has time to wash + rewash? Or soak for hours on end?
However, as I was changing Hudson's diaper recently, in the 2 seconds I looked down to fasten his new diaper, he grabbed a hold of the cap to a stain stick I had been using and placed it in his mouth. Thankfully, there wasn't anything on the cap and he was perfectly unharmed, but it was a wake up call. It certainly could have been the stain stick in his mouth.
My fault. It was completely my mistake having it within his reach. Sure, I could have moved the stain stick to a safer location, but do I really want the exposure to these toxins in the first place?  I'm treating my baby's clothes with something that will have direct contact his sweet little skin. Skin is our largest organ in our bodies. What we place on our skin is absorbed and can effect the entire body.
So I reached out to my mama experts on Facebook, because they are way better than Google and asked what they use for a natural alternative. I had a handful of what looked like good options to purchase, but I hesitated a little because I didn't want to waste my money trying multiple options. There were also some great DIY suggestions, but I don't always have the ingredients on hand for lots of recipes…or let's face it get around to putting it all together. A former ER nurse friend suggested soaking in peroxide, which she said they used constantly for all the stains imaginable in the ER.
I knew Lemon and Tea Tree essential oils are also great for natural stain fighting, so I figured I could come up with an easy DIY recipe using these ingredients that I already had on hand! DING DING DING! We found a winner!
>>>>>>>>>>>>>>>
Natural DIY Stain Remover Spray
Ingredients:
Directions:
Mix peroxide, lemon oil, tea tree oil, in spray bottle. Add a pinch of Epsom Salt and swirl to mix.
Spray on stains and then wash.
>>>>>>>>>>>>>>>>
Our essential oils have been so versatile – from diffusing them in our home (Side Note -using "fragrances"= breathing plastic. Check out this quick video explanation from Business Insider), to using them topically for 100's of uses, to making easy DIY home recipes like this one!
If you are looking for ways to make your home safer and better for your family, you will LOVE the benefits of Young Living essential oils! If you're dipping your toe in them and learning more, this is a great starting point.
If you get started with a Premium Starter Kit in the month of February, I'm throwing in 6 Wool Dryer Balls + some awesome oily resources! 
Another easy natural switch is ditching the dryer sheets with wool dryer balls and a couple of drops of your fav essential oil. Some of our go-to laundry scents are Gentle Baby, Lemon, Lavender, and Purification.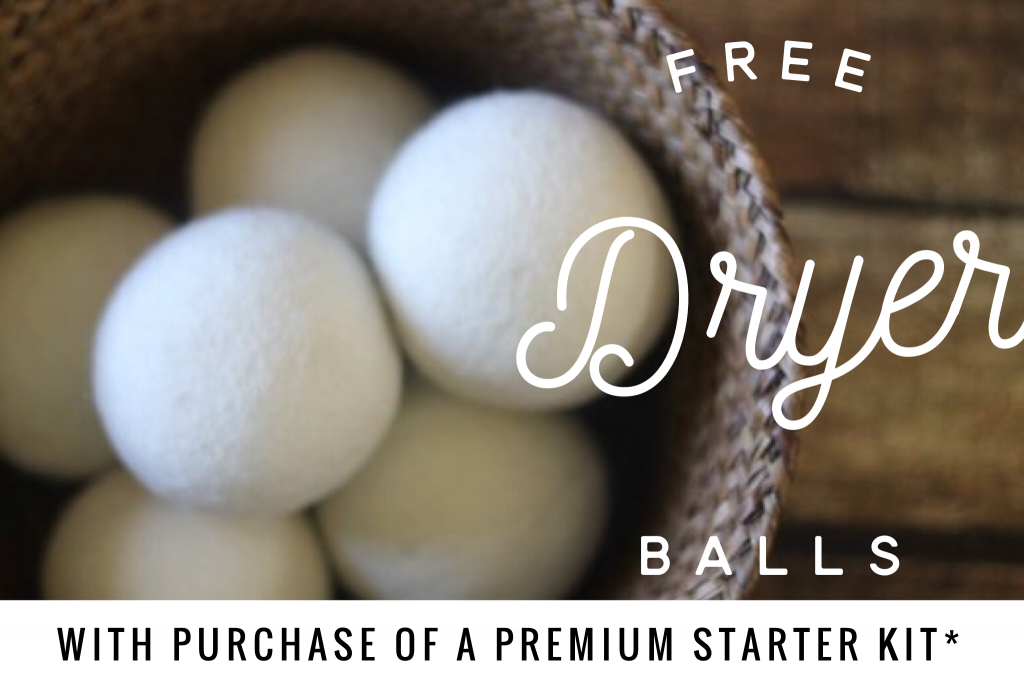 * Free Dryer Balls + Oily Resources with a Purchase of a Premium Starter Kit with my Member Number (#1672711) are a personal gift for the month of February. 
Head over to this post for all the details of what comes in the Premium Starter Kit and how to begin!
*Some links in this post may link to affiliate sites, meaning your pennies help support our diaper fund, so THANK YOU!