Easy Brownie Fruit Pizza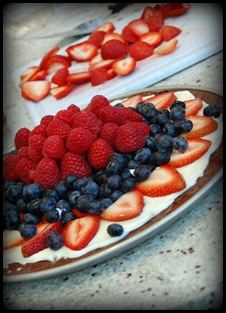 I recently made this Easy Brownie Fruit Pizza for a family gathering.  Don't let the presentation fool you – this recipe is so simple!  If you can handle a brownie mix, you can totally make this dessert!
(And Yes, Betty taught me how to make this creation too!)
Ingredients for Easy Brownie Fruit Pizza:
1 Box of Betty Crocker® Original Supreme Brownie Mix (Water, Vegetable Oil, and Egg as Instructed on the Box)

1 Pkg of Softened Cream Cheese

1/3 c of Granulated Sugar

1/2 t Vanilla

2 c Sliced Fresh Strawberries

1 c Fresh Blueberries

1 c Fresh Raspberries

1/2 c Apple Jelly
Instructions:
Preheat oven to 350 degrees.

Make brownie batter according to box and spread in greased 12 in. pizza pan.
Bake 26-30 minutes, until toothpick comes out nearly clean. Cool completely for 1 hour.
In small bowl beat cream cheese, sugar, and vanilla until smooth. (Requirement – lick beaters to test.) Spread evenly over brownie crust.
Arrange berries as pictured.  Stir apple jelly until smooth and brush over fresh berries.
Refrigerate an additional hour. Cut into pizza slices to serve.
Devour!
The combination of fresh fruit with chocolate is one of my all time favorites!
What's your favorite chocolate dessert?

This recipe is linked at A Southern Fairytale and Blessed with Grace .