Trying Out The Inglesina Avio Stroller
With quadruplets it's great to have "options" for getting around… most of them (like our Choo Choo Wagon and The Runabout) we've outgrown and passed on to other multiples families, but it's nice to keep one (or two) on hand to give little legs a rest on longer adventures.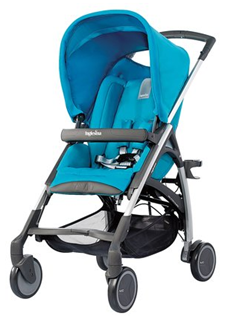 Considering that being a mother of quadruplets turns you into somewhat of a "stroller connoisseur", I couldn't pass an opportunity to test drive the new Inglesina Avio stroller.  This stroller can accommodate age newborn to toddler.  For infants, this stroller is compatible with infant seats of Graco, Peg Perego and Britax. However, it still fits my three year olds quite comfortably. Got to love versatility in a stroller!
Ways I Fell In Love With The Inglesina Avio:
* Design – Personally I love the bright blue color and sleek design of the Avio. Actually, I like all of these fun colors!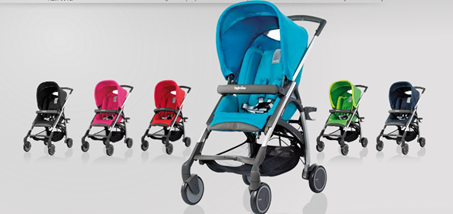 * Functionality – I love that you can steer (even turn) with one hand.  It's super simple to set up and close and it takes up very little room in the closet, garage, trunk, or wherever you chose to store it while it's not out and about. The cherry on top? It's probably lighter than your diaper bag.
* Details – This is a stroller with a brain.  It's umbrella size and weight, but it still has all the features you love on a full-sized travel system stroller like a cup holder, 4 position backrest, cushy removable lining, storage, and a rain cover.
Things That May Have Swayed Me From Falling Head Over Heals With The Inglesina Avio:
* Sticker Shock – It's one of the pricier models of strollers.  However, I feel like the quality does reflect the price.
* It's A Stroller Built for One – Practically, I would prefer a double stroller for our situation. However, if I was carting "just one" around this would be the way to go!
* Snacks On The Go – I'm not sure about you, but for us life on the go often involves food on the go.  Like most umbrella strollers, the Avio doesn't have a snack tray. Deal breaker?  Probably not, but something to consider.
The brand new Inglesina Avio is currently available to order at Diapers.com (free shipping on orders over $49) Our readers will receive a  free fast table chair with their order by entering the promo code AVIOFAST at checkout!
 
Thanks to Mom Central Consulting for including me in the Inglesina Avio Blog Tour on behalf of Inglesina, and for providing this stroller to facilitate this review.