3 Ingredient Game Day Meatballs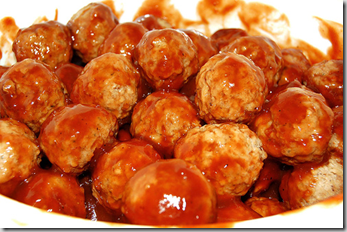 We're still recovering from our Colts heartbreaker over the weekend, but at least we had good food while we watched with about 40 of our friends with higher-order multiples. We had an appetizer/dessert pitch-in. Talk about some great grazing food!
I took a crock pot of sweet and sour meatballs, very easy to make. You might be familiar with the 3 ingredient recipe of frozen meatballs, a jar of jelly, and chili sauce. However, have you tried substituting a can of cranberry sauce for the jelly?  It gives the meatballs a nice sweet tang. Even if you're not a cranberry fan (like my man), you have to try it. You don't taste the cranberry – cross my heart.

3 Ingredient Game Day Meatballs
One 2 lb Bag of Frozen or Homemade Meatballs

One 14 oz Can of Jellied Cranberry Sauce

One 12 oz Bottle of Chili Sauce
Pour meatballs into a slow cooker. Combine chili sauce and cranberry sauce and pour over meatballs. Cook on Low for 4-6 hours, stirring periodically to cover meatballs evenly with the sauce.
This recipe is great for family pitch-ins, or an upcoming Super Bowl Party.  My boys devour these like candy!
What's your favorite crowd-pleasing appetizer ?