Surviving Snow Days: How to Make Snow Ice Cream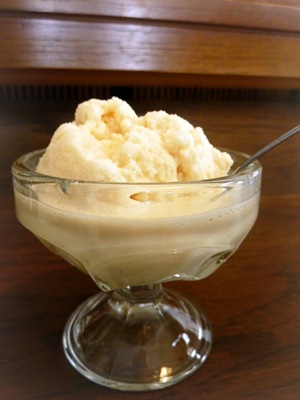 Indiana was hit with more snow yesterday, followed by very cold temperatures today.  Since making snowmen and sledding in below zero wind chills is out of the question, we'll probably make another batch of snow ice cream.  
I'm shocked at how many people have never tried Snow Cream (ice cream made from snow) living in the northern US!  This was my husbands first taste of it as well.  If you love homemade ice cream or soft serve ice cream, it will be love at first bite!
Surviving Snow Days Snow Ice Cream
Ingredients:
8-10 cups of Fresh Snow (the white kind of course) or a Large Heaping Bowl Full
1 can of Sweetened Condensed Milk
1 teaspoon of Vanilla
Directions:
1. Scoop snow into a large bowl. I know this seems like a large amount, but the other ingredients reduce it down.
2. Pour condensed milk and vanilla over snow and mix well.
3. Serve immediately.
I guarantee it will help you survive your snow day! 😉
If you need another idea, don't forget you can skip the 20 minute bundling and bring the snow inside to play!
Have you ever tried Snow Cream?