Fun for a Buck: Playing with Snow Inside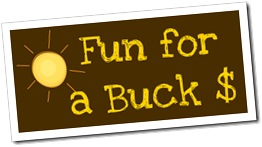 With recent below zero wind chill temps, the snow has been pretty to look out the window at, but my "Snow Angels" have been stuck inside displaying less than "angelic" behavior. Someone recommended bring the snow inside to play with last week and I thought it was a genius plan!
I bundled up and scooped up 4 containers of snow and brought them inside.  The boys played at the kitchen table for an hour making snow balls, filling up cups of snow, driving their cars and trucks through the snow, and rescuing lots of their smaller toys from snow drifts.  (I took lots of pictures but realized later that I forgot to insert my memory card – Quad Brain!)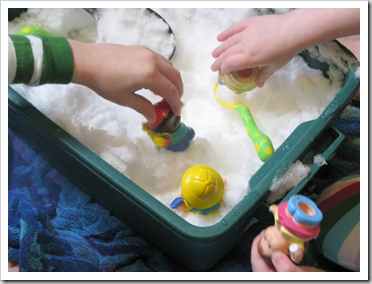 Photo Credit: Mom Advice
You could even try this even larger scale by putting snow in the kitchen sink or even the bath tub. 
*Tip: Have towels and a sink or extra container of warm water close by to warm up chilly hands.
Again, this activity is most likely LESS than a Buck to execute, but in case you need a $1 container from the Dollar Store, I've got you covered!
You can read about Mom Advice's similar experience with bringing the snow inside on The Motherload.
Need more "Fun for a Buck" ideas?  Try these: