Trying NOT to Make the Headlines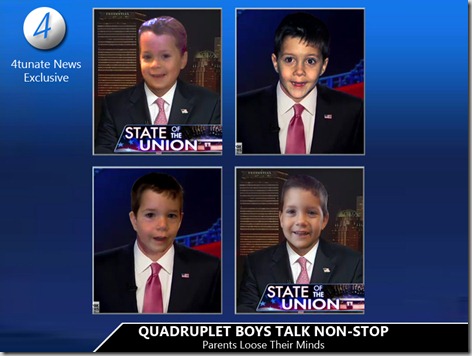 Have you ever watched one of those political talk shows on TV where they invite several "adults" on the show and they all talk over the top of one another.  You can't understand any of them! I personally find it annoying.
As our boys continue to grow and gain more intellectual independence, they also have four differing opinions about nearly every subject.  Sometimes the conversation is laced with lots of giggles, sometimes with passion, and many times with tears.  I could not help but draw the similarity to our political leaders and pundits on TV.  Maybe our boys have a future in this type of work, they are getting lots of practice!
Jen and I readily admit that the noise level in our home has reached a point where it can quickly take you right to the edge.  We have to remind ourselves and each other regularly of the importance of stopping to take a deep breath, pray, remind ourselves of God's Word, and then reengage our children in love.  We want to make sure you never see us in the headlines, sent to a padded room somewhere.  This is one difficult part of having four ALMOST 4 year old boys. (less than a week!)
While it is difficult, I cannot express the joy that the current stage brings us daily.  I LOVE this age, and wish I could freeze them right here.  NO MORE GROWING PLEASE.  Our gracious God has given us really amazing kids, I am really looking forward to another great year with them!
Brad (Quad Daddy)  🙂