Quadruple the Splash
Y'all, I'm SO EXCITED. 
Obviously, because I'm saying "y'all" and I'm definitely not a Southerner. 
It's a little thing probably to most, but it's a BIG thing to us.
They ALL jump in the pool now.
First it was Isaac and Brooks last year, then Henry while we were at Disney World, and now Clark. 
He has been holding back for a while with a fear for going under water, but he gained some confidence last week and as of last night he is officially a FISH.
4 four year olds jumping off the side of the pool with confidence and glee making quadruple the splash!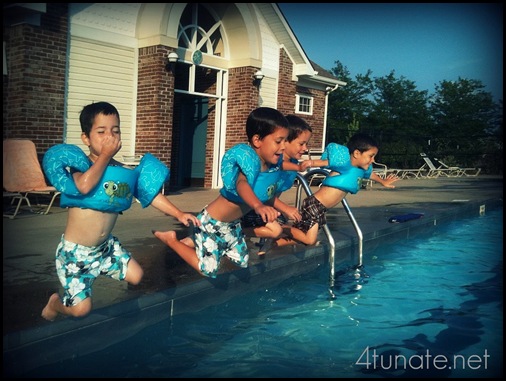 You want to see them all splash together?  I thought you might!
So much joy fills my heart to watch these eight little legs jump into the pool together.  
And to know that they are learning a lesson in courage, trust, and faith. After all,
"You can never cross the ocean, unless you have the COURAGE to loose site of the shore." – Christopher Columbus
Just in time for swim lessons this week!
Thanks for allowing us to share another milestone with you!

(In case you are curious, our boys wear Stearns Kids Puddle Jumper Deluxe Life Jacket
s* and we couldn't be more pleased with them! Coast Guard approved and really the ONLY WAY I could ever take four boys to the pool by myself.)
*Amazon affiliate link