40 Things To Do Outside With Your Family Rather Than Hibernate
I've been reading Fifteen Minutes Outside: 365 Ways to Get Out of the House and Connect with Your Kids
, (Thanks for the recommendation Emily!), and it's been a great motivator in continuing to enjoy the outdoors with the boys as it gets late in the fall.  It gives ideas for each month of things you can do outdoors as a family, regardless of the weather. It's amazing how reading a few ideas can help you brainstorm even more ideas!Even with a chill in the air, there's still plenty of entertainment to be enjoyed in the great outdoors.  And the benefit not only for the kids but for the parents far outweighs the extra time it takes to put on socks, shoes, and jackets.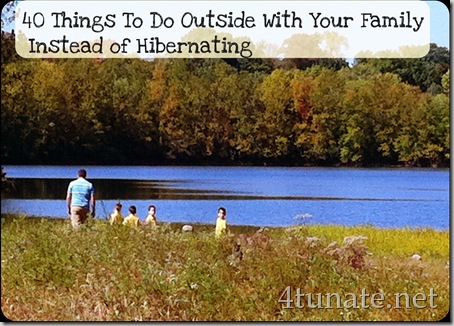 So here's 40 Things to Do Outside With Your Family, instead of letting hibernation kick in for the year:
Go for a family bike ride.
Do a nature scavenger hunt.
Make homemade bubbles and watch them blow in the fall breeze. (Thanks, Kimba!)
Make chalk people by tracing the outline of your child's body while he lays on the sidewalk/driveway.
Make s'mores on the grill or over the fire pit.
Play hide and seek in the dark. (Daylight Savings Time works in your favor for a game before bedtime!) 
Plant bulbs that you'll be able to enjoy in the spring.
Paint with sidewalk chalk paint.
Celebrate the shorter days by taking in a sunrise or sunset together.
Drink apple cider or hot chocolate outside.
Deliver baked goods to the neighbors.
Jump in a giant pile of leaves.
Take a hike at a local park.
Make crayon rubbings with leaves.
Draw pictures in the frost in the morning.
Collect pinecones to decorate for the holidays.
Race around the block.
Play at a park playground. (You might even have the whole park to yourselves!)
Throw things: a football, frisbee, bean bags, etc.
Play in the mud.
Feed the ducks.
Play tag.
Gaze at the stars and learn about constellations.
Read a book outside on a picnic blanket.
Go watch airplanes take off at a local airport.
Visit the zoo. (There's plenty of indoor areas to warm up and the animals are more active than in the warm summer months.)
Climb a tree.
Make a pine cone bird feeder. (Thanks, Myra!)
Rake leaves.
Give geocaching a try and find a treasure. (Thanks, Alyssa!)
Collect a variety of seeds (acorns, walnuts, etc.) and talk about the life cycle of plants.
Go on a photo walk and take pictures of animals, plants, clouds, and things around you.
Look for insects and worms.
Skip rocks at a creek, pond, or lake.
Plant a tree.
Clean out the garden or landscape.
Look up at the clouds and tell what you think the cloud formations look like.
Collect as many colors, shapes, and sizes of leaves as you can find.
Make shadow animals with flashlights on the garage door or on the side of your house.
YOUR TURN!!!  What do YOU enjoy doing with your kids outside?