Simple Outdoor Adventures for Boys {Day 4}: Wading a Creek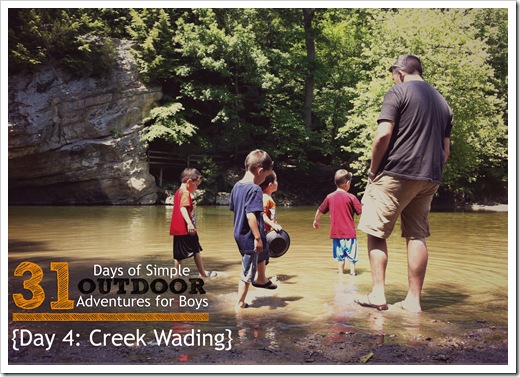 Going Creek Stomping…
   Supplies:
Old Clothes
Sandals/Rain Boots (optional)
Towel
Change of Clothes
It's nearly impossible to take a boy to a creek and keep him dry, so why not go with it.  Creek beds are great for exploring rocks, tadpoles, fish, fossils, etc. So take a towel and a change of clothes, and you'll be all set for a little creek stomping.
It's simple.  It's wet.  It's the stuff little boys are made for!
  Helpful Tips/Resources:
 * You might want to take along a net and/or a small container to observe any creatures you may find. 
Where's Your Favorite Wading Spot?