13 Good Reads for 2013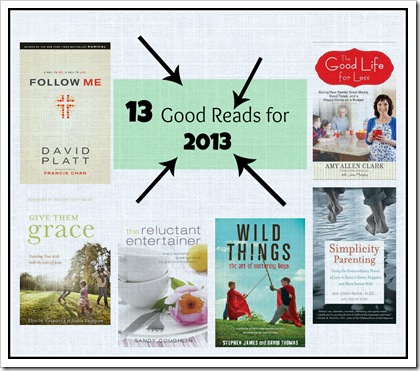 I love getting a good book recommendation, it's like a gift that keeps unwrapping itself within each page.  Once Brad bought me my Kindle {just the basic cheap, easy on your eyes one} I reclaimed my reading groove after kids. Reading is my selfish unwind time that I sneak into my busy days.  A 1/2 a chapter at the end of a bath, a 1/4 of a chapter while the boys are occupied, or a few pages before I crash for the night…
And I LOVE my reading aloud time with the boys. We've been slowly working through our 65 Read Aloud Books for Boys list.  So far we've completed The Indian in the Cupboard, The Tale of Despereaux, and Mr. Popper's Penguins.
I also love hearing what's on your "to-read" lists, and I hope you don't mind me sharing mine as well.
Here are some books that I plan on reading in 2013 – hopefully I'll read even more (especially fiction since I haven't added any yet to that category)!!!
Parenting Reads for 2013
Home Reads for 2013
Faith Reads for 2013
Kids Read Alouds for 2013
So that's 12 books I'd like to check off my to-read list in 2013…now YOU are responsible for picking out #13…or 14, 15, 16, etc. =)  I'd love a few recommendations from your own Must-Read Lists!