The Road to Becoming a Work at Home Dad {Part 5}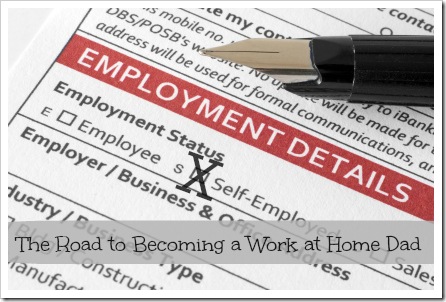 To read Brad's journey of unemployment to entrepreneur from the beginning start here…
Then it finally happened, I got a call from a large engineering company in town that had selected me for an interview.  I was elated, yet something felt "off".  I was feeling disappointed that my entrepreneurial dream might be coming to an end.  It nagged me even during the interview.  I thought, "Do I really want this?" 
I was then selected as one of the final 3 candidates for the job.  They called me in for a second interview.  I was honored and exited, but I was also nearly sick with longing to continue what I had started at home.   I couldn't really turn down a full-time income, could I?
The Lord answered that question as I was not chosen out of the three final candidates.  Although, truth be told, we had already decided to turn down the offer if it was given!  I was not yet ready to give up on this dream, and more importantly, Jen wasn't either.  There was no way I could move forward without her support.  In the spring of 2010, I stopped pursuing the job search and threw everything I had into my newly forming business, 4tunate Design.
By late summer, although profits at were rising steadily, I could not get them to rise fast enough.  Our shrinking savings account was bleeding profusely.  I was feeling the heat of our financial life drying up, and it drove Jen and I to our knees. The Lord led us to create an "end game" plan.  This plan would change EVERYTHING for me.  I would encourage anyone who is trying to get a business going to do this one simple thing.
After much prayer and consideration, Jen and I created a low-water mark in our savings account.  We decided that if our savings dropped below that level, it would automatically trigger a few things that included me taking a part-time job to supplement my income until I could get 4tunate Design to the point it could sustain us.
This simple planning set me free.  Although I had a lot of work to do, I was no longer questioning myself daily as to whether I should give up.  I now had a deadline to meet and I intended to do everything possible to attain the goal.  Within just a few weeks of this decision, which created a great focus for me, we got traction for the first time.  The Lord provided many new projects which allowed us to gain some ground financially.
I would be leaving a big part of the story out at this point if I didn't mention living frugally.  Although I am sure there are more things we could have done, Jen was focused and we both made many sacrifices to keep our budget lean.  No home improvements, frugal food choices, very limited clothing expenses, and having no car debt all played a major role in our success.  We were both fighting hard to increase our income, but the battle to limit expenditures was even greater.
By the close of 2010, our first full year in business, I finally had my first bit of confidence that 4tunate Design might be the long-term answer to our income and my career.  Sales and profits were growing, I was learning, and my best friend and teammate was helping at every turn to ensure my success.  Every time I was down, (which was often unfortunately) Jen was there to tell me how proud she was of my efforts.  There is just no way I could have pushed forward without her confidence in me.  God providing me a great wife really is one great reason I am still in business today.
2011 would be the year everything began to fit together for 4tunate Design.   We had so much to look forward to…