When at The Statehouse Don't Get Eaten By An Orchid and Other Tales from Ag Day…
I along with Cherie, Ann-Marie, Cris, Katy, Jacqueline, and Crystal had the opportunity to attend an Ag Day celebration at the Indiana Statehouse last week.  Not my typical Tuesday lunch hour of PBJs and boy jokes, but warm farm-fresh food prepared by some of the best local food truck chefs was a welcomed change of pace.
I love learning more about our food source and how we can support agriculture locally.  It's something we should all get behind – these farmers are our local heroes. Quality food begins with their dedication, that we often take for granted via the convenience of our supermarkets.
Indiana boasts top 5 rankings nationally in the production of corn, soybeans, popcorn, pork, chicken/eggs, duck, and most importantly ice cream. Indiana represent!!!!  
It was good to chat with Governor Pence again, and hear his support for our local agriculture.  Somehow this blogging gig occasionally blesses me with some sweet political opportunities from The West Wing to representing preemie babies at the state Senate. 
But don't worry, I have plenty of opportunities to stay humble by embarrassing myself or being eaten by orchids while speaking with the governor.  Take a closer look…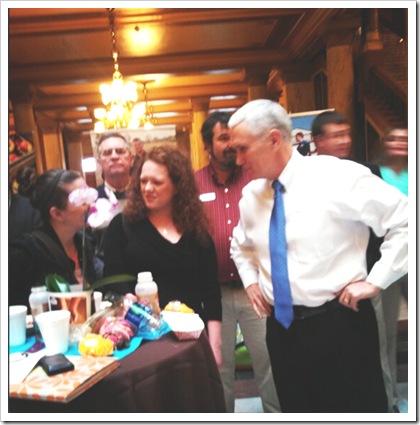 Pretty sure one of the Real Farmwives of America "planted" this photo op.
So the moral of the story, watch out for tropical plants when speaking to government officials, and eat more ice cream to support Indiana agriculture!
Thanks to Cris and Katy for some of the above pics! Special thanks to the Indiana Family of Farmers for allowing us to be part of this Ag Celebration!