What I'm Running From…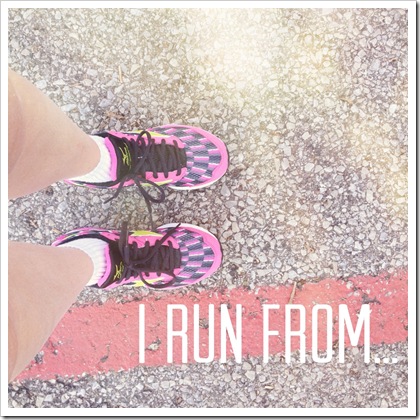 I'm about six months now into this running journey.  I started off kicking and screaming, and sometimes I still want to quit and hang up my sneakers.  Running is hard for me both physically and mentally. I keep waiting for the battle to subside, but I continue to persevere through the pain and the part of me that wants to take the easy way out. 
I need to frequently remind myself of how I got here.  Last spring, I could only run to one stop sign, stop and walk, run to the next stop sign, and continue those intervals for about 20 minutes.  I could barely run around the whole block with the boys without stopping. (The year before that there was no way I could endure the pain of running with no core muscles to support me.)
I know what it was like to have a body that couldn't run, and I'm dedicated to making the best of the one I've been given.  And thank goodness for accountability and my #1 teammate, Brad, who puts up with my whining, desperate texts mid-run, and disbelief in myself. He is so much of the reason that I've stuck it out, and I'm so incredibly grateful.
I'm going to keep running.  Not because I love it, or because it feels good. I have some things that I need to run from…
the voices that tell me I'm not strong enough.
the pain that will get better as I get stronger.
the excuses.
the part of me that thinks easy is somehow better.
the lies that say that I'm not legit.
the old me.
So far this week I've ran over two miles twice.  My speed is slow, and my distance isn't where I want it to be yet, but I'm progressing.  I need to choose to celebrate these small strides. I need to keep lacing up my shoes and fighting the "I can't" excuses.
One foot in front of the other. One stride at a time.
So tell me what are YOU running (walking, etc.) from?