Help Us Name Our Turtle!
Spring is in full swing at our house.  The boys are on a constant hunt for our next bug, animal, or other critter to study and beg us to keep as a pet.  Snails were first this spring, and we discovered a new friend this Friday morning, a box turtle.
The boys are trying to come up with a name for him, and we need your help!  Their first attempt at a name was "Turdy", but they don't understand how gross that name is.  (Or maybe they do, but don't care.)
Here he is: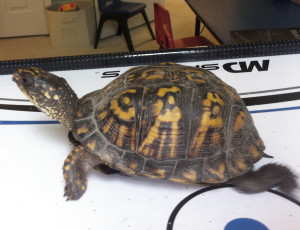 Could you or your kids give us some name suggestions?  Leave them in the comments section, and we will have the boys choose their favorite.
Also, don't forget the upcoming launch of our new eBook, KidVentures!  Check out the post about it here.  We are so excited to push it live next week and share it with you all!
Have a great weekend!