Grill Rescuing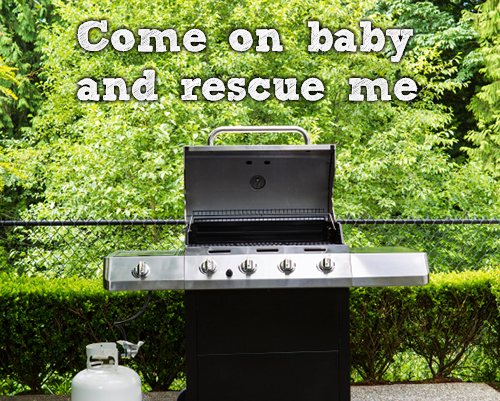 Once upon a time, when Brad and I were young, naive, and twentysomething, we looked into rescuing a dog.  I would spend time scrolling through pictures of sweet dogs on adoption websites, read about different breeds we liked, and even had a few phone conversations with rescue families looking to adopt out their foster dogs. We had our hearts set on a Weimaraner, but concluded in the end that we weren't ready to be tied down by an animal to care for daily.  We wanted the flexibility of traveling without anything holding us back, or extra responsibility. {chuckle}
A few months later, we found out we were pregnant with quads.
Rain check on the dog leash, let's go for the quad stroller instead. 
Turns out we didn't get to be dog rescuers, but we have gotten the opportunity to save 4 grills from the grave of the dump – one from our apartment complex dumpster our first year of marriage, two from neighbors who upgraded, and one from off the street. We know not everyone can take free used grills, but we feel called to take perfectly good grills, cook on them, and make them our own.  =)
So what do we like to grill?  The normal stuff – chicken, salmon, veggies, burgers, dogs, pork chops.  BUT this grill is waaaay better than we've ever rescued before, so we're ready to kick it up a notch on grillin'. Do you have any awesome grill recipes you love?
Pizza? Ribs? Fruit? Fish?
What should we try out?