Fun For a Buck: Building A Fort Inside With Sheets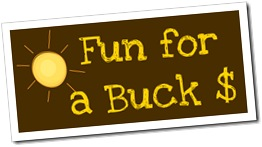 What kid doesn't love making a fort out of furniture and sheets?  With just a few linens from the linen closet and a little furniture rearranging, you can create a secret hideaway for little imaginations.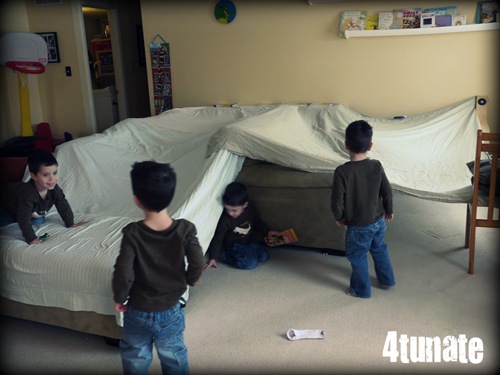 When I was little my mom used to put a sheet over our folding table, which became my little "house" for me and my baby dolls. Great childhood memories! My boys took a little bit of a different approach, making windows and flying toys off the "roof" with their feet. Either way, it was a switch from our daily activities and a fun distraction from our recent family illness.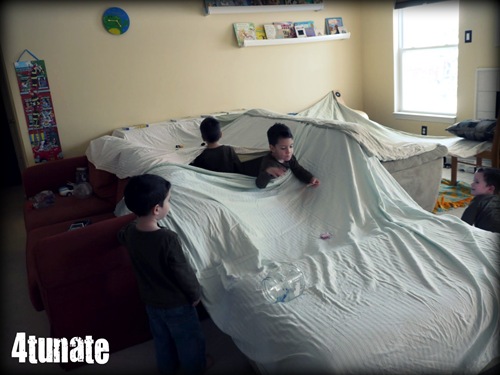 There's no "right way" to build a fort.  It can be a simplistic blanket over the dining room table, or you can use larger pieces of furniture to anchor a tent like structure.  Just be sure to move any smaller pieces of furniture or things that may get knocked over, out of the fort path.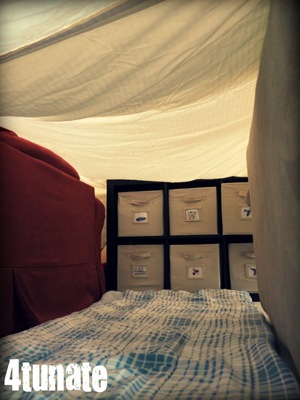 You can secure the sheets by tucking them under the furniture, using heavy books or clothes pins, or even by attaching the sheet to the ceiling via 3M strips. (This is where the "Buck" comes in for any securing supplies you might need!) Be creative!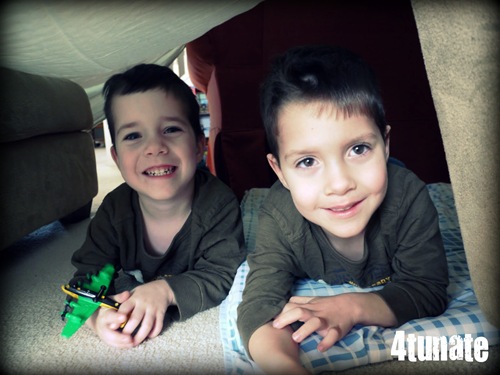 Just don't forget the pillows, blankets, favorite toys, and flashlights!
Do YOU make forts with your kids?  What are some of your tips and tricks for building forts inside?
Need more indoor winter activity ideas?  Give these a try: