10 Fun Snow Activities for Kids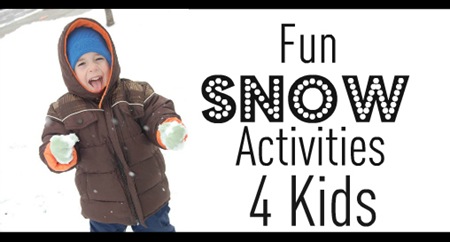 Although it's been an unseasonably warm winter for us in Indiana thus far, we know more snow days are soon to replace the 40 and 50 degree temps we've been enjoying. Snow days are a lot of work to get bundled and dressed x 4 but it always pays off in pure delight! These ten snow activities combine indoor and outdoor ideas, so if you're in a warm climate that lacks the magical white stuff, you can still enjoy these with your little one(s)!
1. Macaroni Snowflakes: Pasta + Glue + Paint + Glitter = Snowflakes
2. Melting Snowman Sugar Cookies: These look super easy using a sugar cookie mix, icing, and a marshmallow head.
3. Make Snow Ice Cream:  Bring a huge bowl full of snow inside and add just a couple of ingredients for a delicious winter treat!
4. Snowflake Stamping with Pine Needles: What a great fine motor activity for little hands!
5. Waterless Snow Globes: Aren't these too cute for words?
6. Snow Play Dough – I would have never thought of adding glitter to our homemade play dough recipe!
7. Bring the Snow Inside to Play: Drive cars, trucks and other toys through the snow in plastic containers while staying warm and cozy inside.
8. Make a Felt Snowman: What a great frugal winter activity!
9. Making Colorful Snow With Food Coloring: This could be an indoor or outdoor activity with squirt or spray bottles.
10. Snow Sight Words: Make otherwise "boring" sight words or spelling words with fake snow.
What's YOUR favorite snow related activity?