2012 St.Vincent NICU Reunion Picnic – The Miracles Keep Multiplying
Each year we attend the St. Vincent NICU Reunion Picnic, it stirs up so many emotions.  We relive some of those scary unsure moments, we embrace others who have journeyed with us, we remember lives who were lost in the fight, we thank our medical family for the roles they played, and celebrate healthy lives!
This year, 9 sets of quadruplets were represented at the picnic. 8 of them and their mamas are pictured here: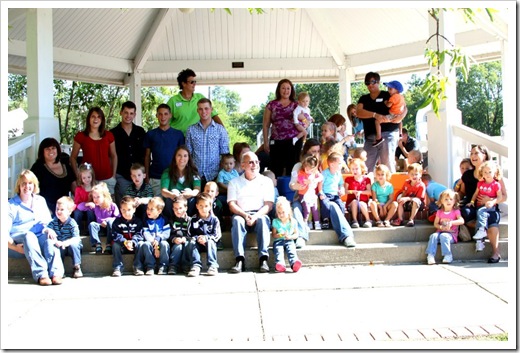 Photo via Elizabeth Stewart
The overwhelming majority of us, have Dr. Sumners (middle) to thank for his care and for the incredible technology of the Transabdominal Cerclage (TAC) procedure to prevent preterm labor/incompetent cervix.
Almost as miraculous as 9 sets of surviving quadruplets?
Getting them all dressed and ready on a Saturday morning
Getting them all to cooperate for a picture
The sanity of their mothers to survive thus far
That all of our kids are in tact and seem no worse for the wear
That Dr. Sumner's is still practicing after all the stress of our high-risk pregnancies
{Related}
Last Year's Picnic Highlights (2011)
Top 10 Reasons We Attend the St.Vincent NICU Reunion Picnic (2010)
Picnicking with Miracles (2009)
Tiny Successes Grand Picnic (2008)