5 Ways to Let Summer Linger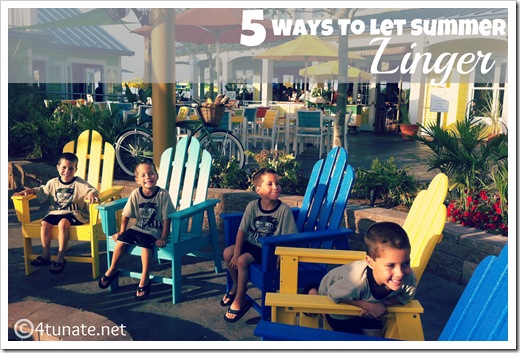 The more summer threatens to leave us, the tighter I want to grasp it. Why are we Americans always in such a rush to jump to the next season, without soaking up the very one we are in?  Not sure about you, but there is nothing "merry and bright" about seeing Christmas displays in the craft stores when I'm sporting pool hair and a tank top.
We'll never see a five year old summer again. In fact, we technically only have 13 more summers with them under our roof. So before we say goodbye, here are…
5 Ways We Are Letting Summer Linger:
1. Soakin' Up the Sun – I know that come January we'll miss these warm sunny days desperately.  We're taking walks on the trails, hitting the pool before it closes, playing soccer in the yard, and loading up on our Vitamin D.
2. Spending More Time On Our Front Porch – We just started using our front porch a few weeks ago.  We took down some railing which allowed us to more sit more comfortably with a couple of chairs, and a small side table.  Even on hot days, it's usually comfortable early in the morning or late at night. This is where Brad and I start most mornings, and it's been such a gift in our day.  
3. Picnics, Cookouts, and Gatherings – We have several picnics planned for the next few weeks.  Tonight we are celebrating our neighbor's safe return from his year in Kuwait with the Army.  Next week we will attend our 6th St.Vincent NICU Reunion Picnic, and then a picnic for our new school in the evening.  It's time to get social with neighbors and friends, before we all hibernate!
4. Eating Fresh Produce – Doesn't everything taste terrific right now?  Sweet corn, cucumbers, berries, tomatoes, and melon are a plenty right now in Indiana. We need to hit some final Farmer's Markets before we're stuck with apples and oranges for the rest of the year.
5. End of Summer Getaways – There's still time to squeeze a last getaway into the end of summer.  We recently took in an amusement park (thanks to all your incredibly helpful tips)  while the crowds were lower, and the weather was terrific We are sold on hotels that make more out of your stay, like Embassy Suites, that have 2 suites to spread out, great amenities, free breakfast and evening receptions. Some of the best summer memories we've made have been the ones we've traveled together as a family.  It doesn't have to be extravagant or expensive to make the best out of these last days of summer.
We made some wonderful summer memories during our stay at Embassy Suites Downtown Chicago, and the rest of the Embassy Suite's ambassadors had positive experiences as well.  Deanna, from MommyGaga, has a great recap of our family hotel getaways, which probably includes a great hotel in your region!
How about YOU?  How are you getting the most out of these last summer days?
{Related Posts}:
{I wrote this review while participating in an Ambassador Program by Mom Central Consulting on behalf of Embassy Suites Hotels and received a one-night complimentary stay at an Embassy Suites Hotel to facilitate my reviews and a promotional item to thank me for taking the time to participate.}