To My 4 Kindergartners: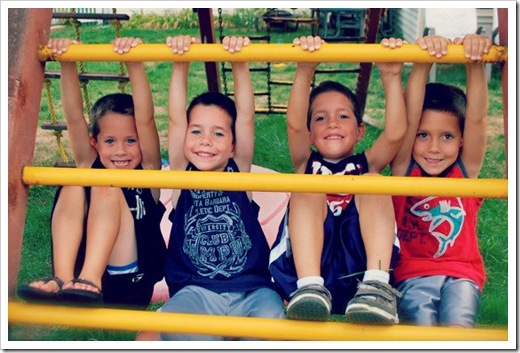 To My 4 Kindergartners:
We've had quite the 5 year old summer, Boys. It's been my fondest so far. This summer you've…
spent warm afternoons at the pool
stomped in the creek
rode bikes around the block
camped in the beauty of God's creation
screamed on your first roller coasters
watched fireworks
caught every bug that resides in Indiana
played soccer/baseball/tennis/tag in the backyard
spent time getting to know love our neighbors all the more
had overnights at grandma and grandpa's house
read a few books from our list
swung without help
splashed in puddles
rode a train/bus/water taxi/taxi
visited our beloved State Fair
wrestled with daddy
were glued to the Summer Olympics
cheered at a major league baseball game
welcomed home a couple of heroes
splashed in two Great Lakes
And these are just what made the highlight reel.  In 3 sleeps, you'll spend your first day at Kindergarten.  And although it won't be as hard as letting you go everyday, it's still going to be a lump in my throat for how far you have come.  What amazing people you are becoming!
I think you are going to teach me as much as I attempt to teach you this year.  God has a way of showing me so much through your honesty, your questions, even your misbehaviors. I'm so thankful that you are so quick to forgive me, just as our Heavenly Father demonstrates each day.
You've been so blessed to live each day with brothers. The way that you are becoming so loyal to one another makes me melt into a puddle.  No one makes you laugh like your brothers.
I am so thankful for another summer spent with my favorite four little men and your incredible Daddy, and I'm looking forward to all that this new school year will bring.
Another adventure awaits us, Little Dudes!  Kindergarten won't know what hit it!
With More Love Than You Can Imagine,
Your Mama