Our Vacation with a Stuffed Chipmunk Named Chip
When Brad explained to the boys that we would be leaving for a few days, Clark insisted that we bring his Chip along for the adventure.  It ended up being a fun way to let our boys know that they were not forgotten while we were away from them. We sent picture mail messages to their awesome sitters to show them what sorts of adventures Chip was up to each day.  
Chip's 1st Trip on an Airplane Adventure:
Chip did great on his first flight and passed through security without a hitch! He was quite disappointed that the airline served pretzels instead of nuts, however. (Thanks to our AirTran pilot who was happy to play along!)
Chip's Adventures in Chillaxin'
Isn't that what vacation is all about?  Even a stuffed chipmunk enjoyed down time in the hotel room, checking out the ocean waves, and basking in the sunshine by the pool.  (Or maybe a couple hours safely resting in the trunk of our rental car.)

Chip's Adventures in Tasting Local Cuisine
His favorites included glorious Key Lime Pie from The Tuckaway Bagel and Waffle Cafe and World Famous Sinful Cinnamon Rolls from Heavenly Biscuit.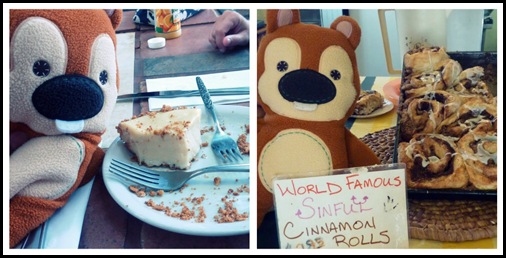 Chip's Adventures in Salt Water Fishing
Dale's Fishing stories include catching a Catfish, Grouper, Puffer fish, and of course like every good fisherman critter, the "Big One" who got away.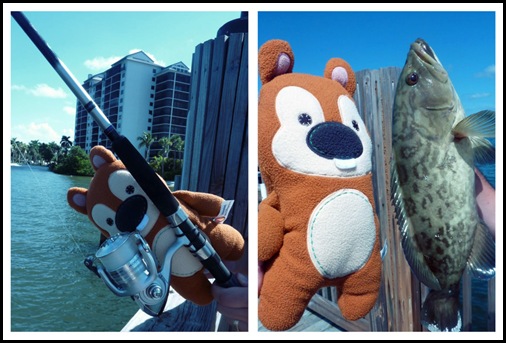 Chip is recovering from all of his wonderful adventures, tucked in next to his favorite sidekick, Dale Clark for the night. 
Parents, feel free to re-use this idea if you're planning a couples getaway. It worked like a charm with our fussy boys the first day and continued to keep them involved during our short getaway. You might feel a little silly carrying around a stuffed animal, but you'll be surprised how many other parents can relate. We even met a couple of parents who had done the same for their children. 
Have you ever taken along one of your child's belongings on a trip? What did you take? If not, what do you think your child you to bring along?
QuatroMama