Super Bowl Roast Beef Sandwich Roll Recipe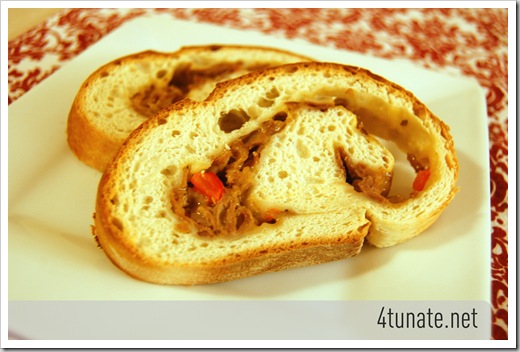 For those of you looking for a crowd-pleasing recipe for this week's Super Bowl, this is a all around "winner". I modified this recipe from a recipe I cut out of an old issue of Taste of Home Magazine years ago.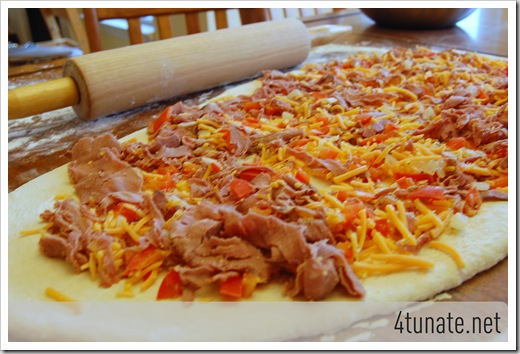 Super Bowl Roast Beef Sandwich Roll Ingredients:
2 loaves of frozen bread dough
1 chopped red pepper
1/2 cup onion
1 teaspoon of garlic powder
1/2 teaspoon of seasoned salt
1/2 lb. deli roast beef
1 1/2 cup of shredded cheddar cheese
1 egg white
1 tablespoon of water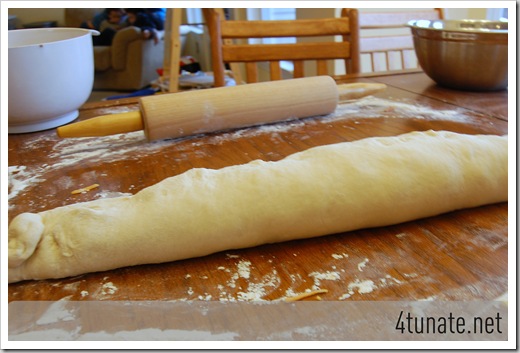 (Notice the little dudes in the background all huddled together peacefully? That's why these pictures are messy and less than perfect! Must work quickly while the gettin' is good!)
Super Bowl Sandwich Roll Directions:
Thaw bread dough in the refrigerator for 6-8 hours, and then combine the two loaves into one ball. Cover in a greased bowl and allow to rise in a warm spot for 90 minutes.
Sauté the chopped red pepper, onion, and seasonings.
Punch dough down, and roll into a 15×12 in rectangle on a lightly floured surface. Julianne the roast beef and combine with cheese and red pepper mixture. 
Spread meat, cheese, and veggies over the dough, and roll up starting from one side going horizontally. Pinch seams and roll ends to seal.
Place seam side down on a lightly greased baking sheet. (If yours is too long like mine, just adjust it diagonally.;))
Beat egg white and water to make a wash to brush over the dough. Cut a slit in the top of the dough.
Bake at 400 degrees for 30-35 minutes. Allow it to rest for 8-10 minutes before slicing.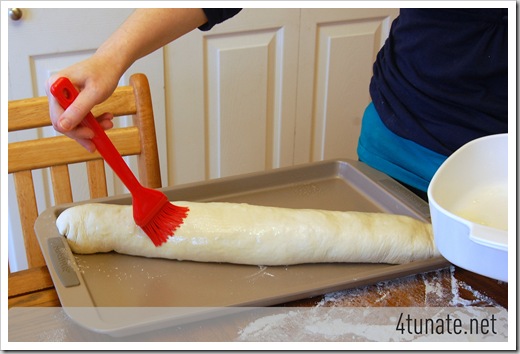 Here are a few other Super Bowl recipe ideas you might like to try:
What's YOUR favorite Super Bowl Party dish?